73% of the Full-Time MBA student cohort come from abroad to study at Trinity. Many of them seek to enter the Irish job market upon graduation, which is made possible by the unique Irish two-year graduate visa. Dublin is home to a vibrant job sector, particularly in the areas of tech, accounting and finance, and is home to many international giants, such as Facebook, HubSpot, Google, Twitter, LinkedIn, and more.
Anukriti Bishen is one such person who departed India for Ireland to study the Full-Time MBA programme. She is now an Enterprise Account Manager at Kubicle in Dublin. Anukriti talks about why she choose the Trinity MBA, how it impacted her career, working in Ireland, and also offers some tips and advice for prospective students from abroad who are looking to make a similar jump in their careers.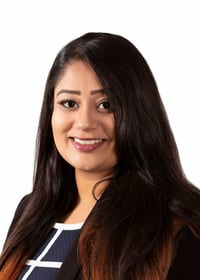 MBA Alumna Anukriti Bishen
Choosing The Trinity MBA
"Dublin is definitely on its way to becoming Europe's Silicon Valley. Having visited Dublin before, I knew it as a melting pot of different cultures and experiences and the MBA programme sits at the heart of that thought.
The MBA company project gives you an actual immersive experience in project management with a real company, which is irreplaceable. Being in tech Sales, I had the chance through the company project module to work with Twitter EMEA's Sales team , which was an extremely valuable aspect of my professional development during the MBA.
The MBA programme has an incredible reputation both locally and internationally and that was something I definitely wanted to be a part of. Not to mention, being English speaking it is one of the most attractive locations as a business professional.
Developing my Career with an MBA
A major reason for doing the MBA for me was to develop other aspects of my business acumen in other things outside of sales, especially developing myself in finance and accounting. I have long term aspirations of being an entrepreneur and the MBA has definitely been a stepping stone towards that.
I made very valuable connections that helped me get referrals into organisations while looking for jobs, a lot of career advice and really close friends. Being able to say that I'm a Trinity MBA alumni in a job interview definitely gives me an edge in Ireland. I often come across other MBA alumni in my day to day work and it is amazing to be able to pe part of that instant connection.
Having a Trinity MBA opened up a plethora of options and experiences for me in terms of both personal & professional experiences. The difference in the education system in Trinity is more focused on practical learning, which was something I responded really well to.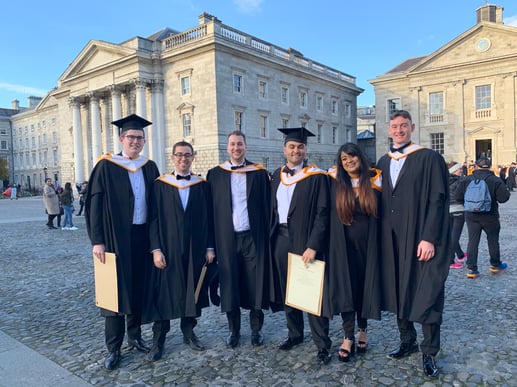 Graduation at Front Square, Trinity College Dublin
Applying MBA Learnings in my Work
The curriculum at its core of course helped me a lot. Going into a management position, I found myself using a lot of the Strategic Management Modules in my day to day. The coaching both at a personal and team level really equipped me to work better in a fast evolving, multicultural and collaborative landscape.
Kubicle - where I work now - is a learning and training SaaS organization that works with top consulting firms such as Deloitte, KPMG, PwC and Bain to name a few. Kubicle enables organisations and individuals to transform their data literacy skills, helping them adapt to a rapidly changing world. I work as an Enterprise Account Manager in Growth. My day to day includes identifying revenue potential in different subsidiaries and verticals of these organisations and helping them realize their L&D goals with us.
I think what I learnt most from the MBA was being a 360 degree thinker for customers. It helped me in becoming a critical thinker and being able to assess multiple aspects of a customer's business quickly and adeptly. This has a ripple effect on every function, be it problem solving, sales or marketing, or even personal development.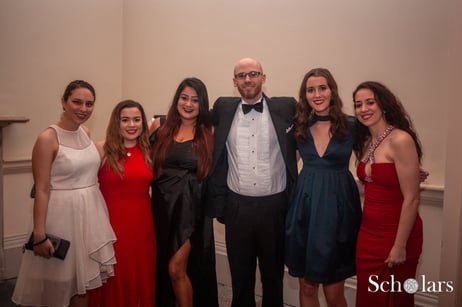 The Trinity Scholar's Ball
Advice
When considering The Trinity MBA, I'd advise you to research the kind of roles and organisations that exist in Ireland (and there are sooo many!). Use the MBA as a tool to signal your strengths and interests to arrive at what you really want to do. The job search is a self-led process with support from the dedicated MBA careers team. Work with them through the programme and identify the gaps in your skillset versus the job specs of your dream role!
Be proactive. You're in a class full of people from different backgrounds with a diverse range of experiences and there is so much learning from one another as well as the staff. Know the difference between an academic and a professional degree. Network, reach out and make the most of your connections in an authentic way.
The MBA experience is what you make it and Trinity is the place to be to provide you the support system and network for that. It is in your hands to capitalize and make great friends and connections that will last for life 😊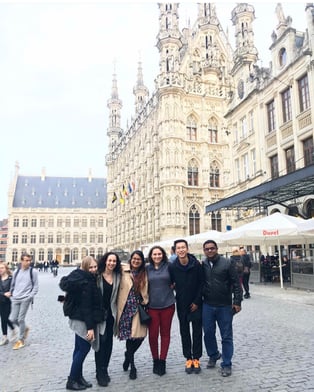 Leuven International Residency Week Trip
Job searching is very different from India. The concept of campus placement does not exist and it is a more self-led process than hand-holding. I think it is important to set that expectation.
Interviews are based on more overall competencies than just academic achievements, so make sure you have goals that are as focused on self-development as you are also on academic/career development throughout the MBA.
Working in sales, I have observed how having a genuine interest in a client's business is a big part of the way the Irish do business. Try and adopt a "customer first" mentality in everything you do.
Finally, start watching Rugby. It's great craic! 😊