We asked some of our 2019-2020 cohort about their MBA experience and any advice they have for prospective students. Hear what they had to say.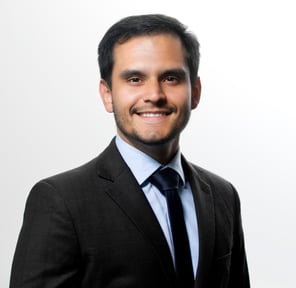 Name: Andrés Soto
Nationality: Costa Rican
MBA Programme: Full-Time MBA
Why the Trinity MBA?
I had decided to pursue my graduate business education in Europe, and it was very important to me to attend a school that was widely recognised. Trinity is not only investing heavily in its business school, attracting talented people from all over the world, but the university is always at the forefront of research in a variety of subjects.
How does Trinity stand out from other business schools?
Being located in a business and technology hub such as Dublin really makes the difference. It is not the same to read about a business case than to visiting the actual companies and learning from the experts first-hand. All of the main tech, finance and consulting companies in the world have a strong presence in Dublin, which makes it easy to network and connect with a variety of people.
Sum up the Trinity MBA experience and culture in a single word.
Rewarding.
What value does the diversity of background give in the Trinity MBA?
As with many other things in the Trinity MBA, the diversity of the programme makes it both challenging and rewarding. Most of us will pursue professional opportunities that will require efficient collaboration with people from diverse backgrounds and cultures. The MBA experience really captures the diversity and complexity of the international business environment and prepares us with the skills to successfully navigate it.
In my company projects and assignments, I had the chance to collaborate with people from different cultures; American, Irish, Indian, Canadian and Icelandic to name a few, which required me to be flexible and adapt to different communication and work styles in order to be a good team player.
What's the most important skill you've taken away from Trinity?
It has helped me to be comfortable with uncertainty. Who knows how many different roles we will have in our careers in the future and how many times we will need to reinvent ourselves? Change is the only constant in our world, and the MBA at Trinity pushed me to embrace challenging situations and use them as learning opportunities for my development.
What tips would you give for incoming international students?
Getting around in Dublin is fairly easy. I do recommend getting familiar with the different areas and neighborhoods in the city before flying to Ireland, arriving a couple of weeks early to do viewings is also a good idea. Once settled, there is plenty to do in Dublin in your free time, but I strongly recommend leaving the city once in a while to get fresh air. Astonishing coastal towns and villages rich in nature and history are just a short train ride away from Dublin city centre.
What was the value of the company projects for you?
The company projects helped me feel confident outside of my comfort zone. Before joining the MBA, I had grown my career as a finance professional in a very specific sector, but through my company projects I got to learn about areas as diverse as climate change within the banking industry, customer success in SaaS businesses and even marine conservation. This has helped to develop a systematic approach to learn new subjects and has even gotten me interviews in areas totally unrelated to my professional background.
Any advice for future students?
You only get from an MBA programme as much as you put in. This is particularly true at Trinity as both the business school and the university provide countless opportunities for students to learn. Join a society, connect with different people, attend conferences and engage in class discussion as much as you can. And remember to take the time to enjoy this wonderful city!