We asked some of our 2018-2019 cohort about their MBA experience and any advice they have for prospective students. Hear what they had to say.
Nationality: Irish/South African
MBA Programme: Full-Time MBA
Current Role: Finance Business Partner at Paddy Power Betfair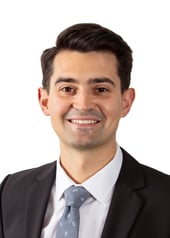 Why the Trinity MBA?
It was important for me to attend a school that is internationally recognised, and as one of the best-known universities in Europe, Trinity fits that description. This coupled with the business school's location in the heart of Dublin, a city with rapidly expanding business opportunities, made it my first choice.
How does Trinity stand out from other business schools?
There are two things which really make Trinity stand out. First is the school's dedication to a small class size, which allows you to build stronger and more personal connections with your colleagues and lecturers. The second is the use of a real-world consulting project rather than an academic thesis, which is better equipped to develop skills that are transferable into your career.
Sum up the Trinity MBA experience and culture in a single word.
Diverse.
What value does the diversity of background give in the Trinity MBA?
The students and lecturers at Trinity come from a wide range of different cultural and professional backgrounds, which creates a great environment to introduce new perspectives to your own point of view. Coming from an accounting background, I had always worked with people with a similar career path and thought process as myself, but the MBA introduced me to doctors, engineers and many others who thought about problems in a completely different way.
What's the most important skill you've taken away from Trinity?
It's hard to single out one skill that I took away from the MBA, but if I was forced to choose one it would be my ability to communicate an idea and subsequently influence others to believe in that idea. Through the numerous team assignments and presentations, this was the soft skill I used the most throughout the year and where I can see my greatest improvement post-MBA.
How did the international residency weeks impact you?
The international residency weeks add to the diversity available through the MBA by giving us a chance to learn from lecturers and topics not normally offered at Trinity. These weeks were also very intense, giving you one week to focus solely on one subject, really immersing yourself in the content and the city you're in.
What was the value of the company projects for you?
For me, the company project was the most valuable aspect of the Trinity MBA as it allowed our team to put the theory we had read about into practice. Importantly, it was not done in a simulated environment, but rather we were required to work on real issues facing successful international companies. This required us to stretch ourselves and rise
Any advice for future students?
Take the time to build connections with your colleagues, because as much as the faculty are there to stimulate your mind and help you succeed during the program, your fellow students will have a wealth of knowledge for you to draw on.