EU's Rising Innovator, Forbes 30 Under 30, Disability Activist.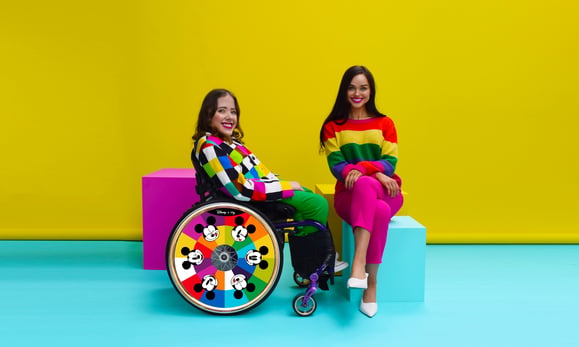 Ailbhe was inspired to start Izzy Wheels by her younger sister, Izzy, who has spina bifida and is paralyzed from the waist down. Launched in 2016, Izzy Wheels sells stylish, playful wheel covers for wheelchair users. In 2019, they became the first disability brand to partner with Barbie, creating a new and inclusive wheelchair Barbie doll with matching wheel covers. In 2020, they created a limited-edition collection with the Japanese pop culture icon Hello Kitty. Last year they launched their biggest collaboration yet, an exclusive global deal with Disney and Marvel. This has culminated in 15 national awards, a BBC documentary, and a place on the prestigious Forbes 30 Under 30.
What made you decide to undertake an Executive MBA?
My background has always been in design, and when I thought of every successful designer, I knew they were also really good at business. What I didn't expect was that Izzy Wheels, my undergraduate final year project, would eventually become that really successful business. I launched Izzy Wheels the week after I finished my design degree at the National College of Art and Design. I quickly found myself scaling a small business into a big brand. I thought now, this is the perfect time to do an MBA, so that I wouldn't just learn by doing, but also learn from the experts.
Why Trinity Business School?
I knew that Trinity Business School was highly ranked and I loved the beautiful historic campus, so I didn't even apply for any other colleges. Trinity is in the heart of Dublin, it's close to where I live, it's where my studio is and it's where our manufactures are located. I applied for Trinity's Executive MBA because it's part-time, so I can continue to run my business during the day and study at night.
Your work bridges the gap between disability and fashion. In your opinion, what role does fashion and education play in making the world a more inclusive place for all?
Our company motto is 'if you can't stand up, stand out'. My sister Izzy has always loved fashion and yet she has been excluded from the fashion world and at Izzy Wheels, our whole mission was to really bridge that gap and to shine a positive light on disability. It doesn't have to be something that people or brands need to be afraid of, it's an exciting space where there's so much scope for innovation.
How does the Executive MBA strengthen your comprehension of business?
The MBA has been a huge investment in myself. It allows me to work on the business, rather than in the business. My day-to-day is working with clients, building designs, managing the website, etc. The MBA allows me to step back two days a week and look at it as a whole business, and not just the day-to-day. Moreover, the MBA has really given me the opportunity to learn about other businesses, including how big teams operate and how to manage people. My background is entrepreneurship, but everyone in the class has a totally different set of skills and experience, and I've learned from my classmates too. This expertise is crucial as I scale Izzy Wheels.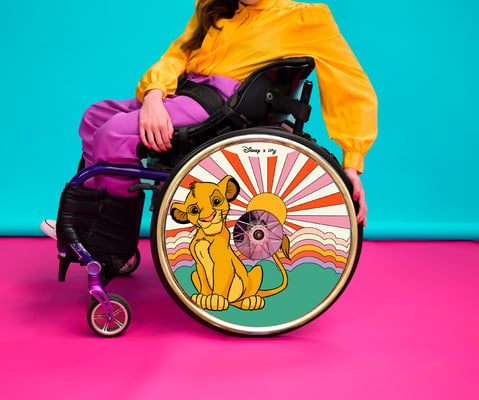 Tell us about some of your artistic collaborations?
We've worked with over 100 designers and brands since we set up five years ago. I've learned so much from every single collaboration. We started off working with artists I knew, then we branched out to artists who we liked on Instagram. And since then, we've had over 3,000 applications of artists who want to design for Izzy Wheels. From designers to brands, we're really selective with who we partner with, their work must align to ours. We need to sieve out the brands that want to work with us because it makes them look good. So, we've said no a lot more than we've said yes. And we don't just say yes for some potential financial gain, it has to make sense to our brand and really serve our community. If you say yes to working with the wrong brand, it dilutes your own brand, and the most valuable thing you have is your brand.
What roles do other members of your family play in the business?
Izzy is our brand ambassador; her job is very much about engaging with the community. She is an amazing public speaker, she educates people about disability and inclusivity. My Dad is a solicitor, and he reviews the licensing contracts, which can be very long and complex! My mother has a really good eye for design and unexpectedly played the role of photographer for a Disney shoot during lockdown in 2020, and the images turned out super.
How do you balance the Trinity Executive MBA alongside running your own business?
Time management is important. You need to carve out time for reading and studying. It's also important to make time to get some exercise and to eat healthily. It's a balancing act, and you must become super organised with your time.
Tell us what it means to you to have secured the Trinity MBA | 30% Club Women in Leadership Scholarship?
It's so important to have strong female representation and diversity at high levels in every kind of business. It wasn't until I launched my own business that I realised there was a gender imbalance amongst founders. The 30% Club Scholarship aims to foster greater representation of women at executive level in business organisations. I feel incredibly honoured to have secured the scholarship.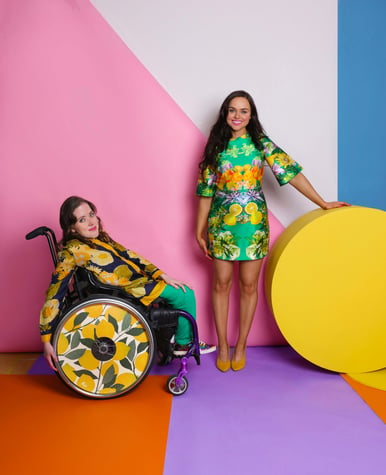 Image ©: Sarah Doyle