Evelyn Khoo is a financial services professional from Malaysia who decided to take on the Full-Time MBA at Trinity in Dublin in 2019. Read about her top tips to consider before moving abroad for an MBA at Trinity College Dublin.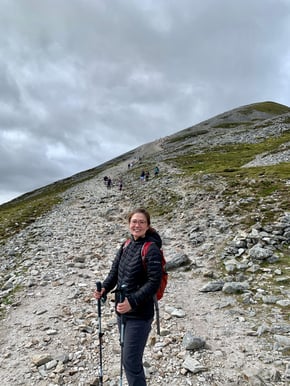 Name: Evelyn Khoo
Programme: Full-Time MBA
Nationality: Malaysian
Occupation: Head of Portfolio Management & Pricing, Liberty Mutual
Step 1: What to Pack
If you have read Marie Kondo's book "The Life-Changing Magic of Tidying Up", then by applying the KonMari Method, I only brought along items that 'Spark Joy'.
Based on my research and time in Ireland, I'd recommend that you should invest in the following basic items to keep you going throughout the change in seasons – although you will be welcomed by the general Irish weather – cloudy, rainy with occasional sunshine.
Jackets – waterproof and windproof with hoods are recommended for the unexpected light rain.
Comfy shoes – waterproof ankle boots were my favourites.
Water repellent bags to keep your laptop and notes dry and safe.
A small wallet to keep your student card and LEAP card for easy access to the library or to catch the train or LUAS.
Lastly, in order to charge all your gadgets, I would recommend the multi-USB charger with converter.
Staying true to my wardrobe, I kept the minimalist capsule wardrobe for packing. Pick 3 shades which you love to mix and match. As a middle-aged student, I would say my usual go-to assembles are jeans, paired with a shirt or sweatshirt for lectures and a formal attire for company meetings and events (dresses, coats, pants/ skirts and shirts).
You can leave behind your designer bags and shoes and high heels. There are not many occasions to wear them due to the weather. Embrace the quirky and fun sense of style which is unique to Ireland.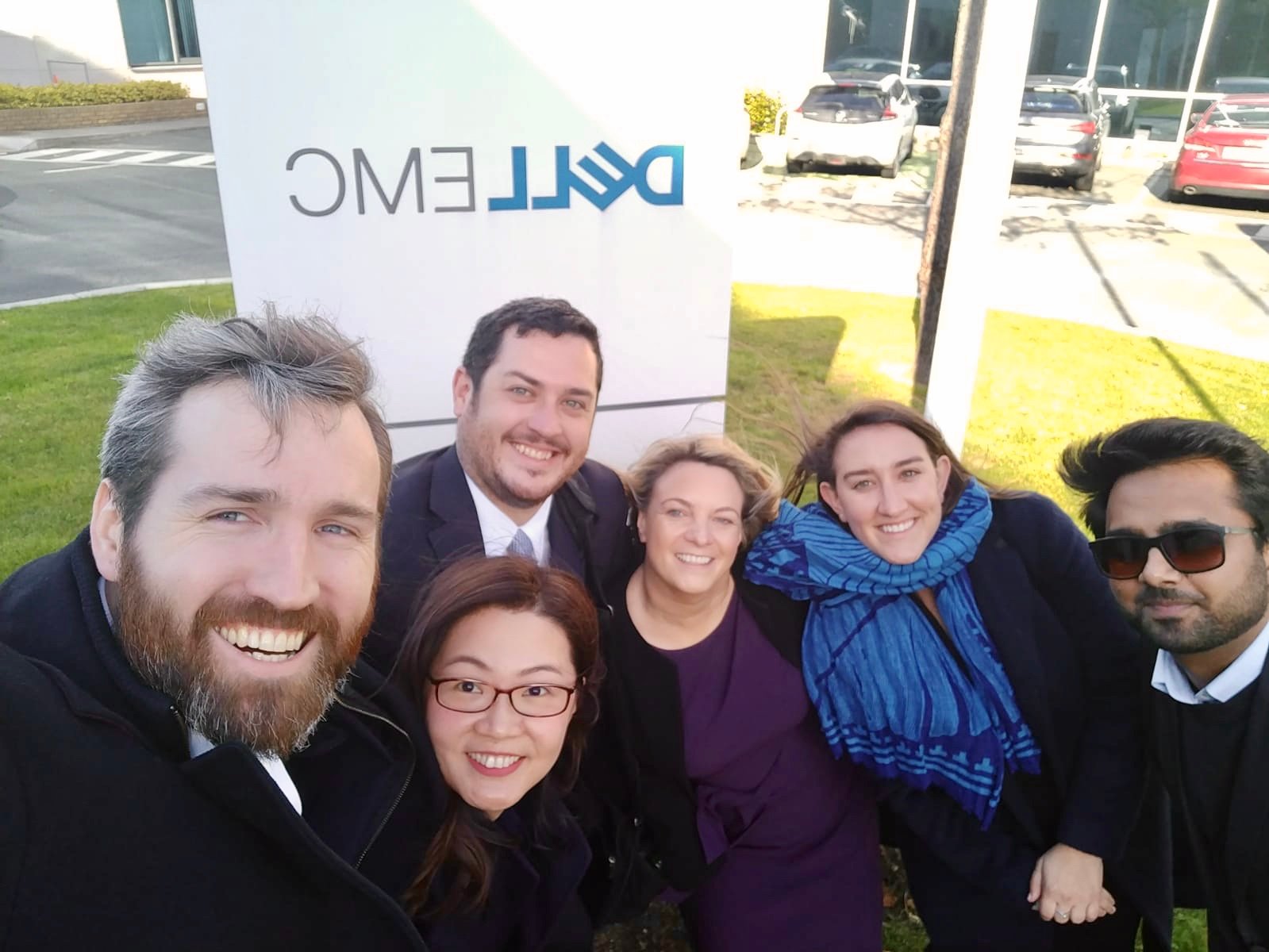 Team 3MAKE attending a meeting at Dell EMC for the Strategic Company project as part of the Trinity MBA programme. L-R Marc Mulcahy, Evelyn Khoo, Michael Tosney, Mary Quinn, Katherine Keefer and Anmol Malik.
Most standard stationary items can be easily found in the bookstores such as Easons, Hodges Figgis and Muji. If you are more selective about your stationary, I would recommend bringing a few pens for the written exams and a standard calculator.
Prepare all the necessary documents including health insurance prior to your arrival and start to apply for your student visa upon entering Ireland. The same goes for opening a student bank account and debit card (Bank of Ireland, KBC, Revolut).
Step 2: Where to Live
Conduct your research and reach out to the school for links and recommendations. View as many places as you can but be decisive and realistic about the travel distance, costs, and nearby shops to ensure you find accommodation which suits your needs and budget. I chose to live further away from the University but soon regretted wasting hours to travel each day. However, during the Covid-19 restrictions, it allowed me to enjoy daily walks along the canal and Phoenix park.
Step 3: Get an Irish Phone Plan
With so many service providers to choose from, Eir, Vodafone and Virgin Media are the most popular mobile network operators. Compare the features but the recommendation would be to opt for the one with unlimited data.
I opted for Vodafone which includes Spotify Premium for new customers and the offer will re-activate every time you top up €20 each month which also allows for roaming across Europe.
When you are in school, make sure to set up your internet connectivity to enjoy free-WIFI in Trinity Business School and consult Trinity IT if you are facing any issues with the connectivity setup.
Step 4: Picking your Method of Transport
If you live outside of campus, you can opt to cycle to college or take the bus, LUAS, DART or a combination in my case.
There are plenty of proper bike-parking bays to leave your bicycle on campus. If you decide to purchase a bicycle, consider getting a second-hand bicycle through Trinity's white board at the University front arch entrance, or online forum. Make sure you buy a good bicycle lock and possibly a helmet too. It does rain quite often so be careful when cycling and bring a raincoat.
It is very convenient to walk in Dublin with proper pavements. You can use Google Maps for walking directions, trains, DART and LUAS schedule and directions.
For buses, you can download the app – Real Time Ireland or the Dublin Bus app for an up to date time schedule on the relevant transport.
Apply for the Student LEAP card on campus for discounts for bus (Dublin Bus, Go-Ahead, Bus Eireann) and LUAS and trains (DART). For example, the Luas Leap Card has a limit of €5 per day and €20 student card limits for the week. After you reach the limit, you won't be charged for any journeys you take after that.
Step 5: Know where to get your groceries
Attend the Trinity orientation programmes which cover a wide range of topics ranging from your visa application to a tour of the university and the libraries in Trinity. I found these really helpful. It allowed me to search and locate textbooks quickly and navigate the systems to renew and return books.
The university shares a list of grocers in its FAQ section within the city centre. For ease of reference, you can visit Tesco, Aldi, Lidl, SuperValu, and Dunnes for all necessities and also Spar, Centra and Insomnia to pick up any simple items. If you are looking for premium goods, you can head to Marks & Spencer or Avoca.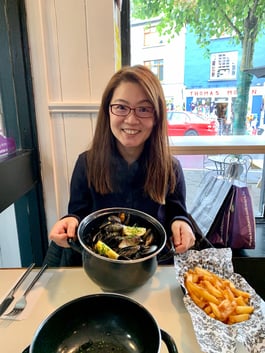 Irish Mussels and Chips
There are also a lot of Asian grocers stocking items from India, Korea, China and across other Asian countries. Most of these shops are accessible online and are able to accommodate door to door delivery.
Step 6: Take Advantage of your Student Life
You will have ample opportunities to make friends and expand your network with the Trinity MBA and EMBA cohort through the MBA induction week and various receptions/ events.
I also made a few friends during orientation week and through Trinity's societies and clubs. Depending on your interest, I signed up for Entrepreneurial (TES), Free Legal Advice Centre (FLAC) and Tennis. I also made a few friends during the orientation week via the Trinity clubs and societies. They are mostly candidates from the other Master courses in Trinity. They provide a fresh perspective of studies with interesting topics of discussions ranging from Finance, HR, Digital Marketing and Risk Management.
Enjoy the benefits and discounts that your T-card (student card) allows for in Boots (where you can get all your daily beauty essentials), McDonalds and The Irish Times newspaper to name just a few.
Also, enjoy a free visit to the Book of Kells with your student card and skip the queue. This would be a good time to grab any trendy Trinity merchandise, especially the hoodies.
Step 7: Adventure around and outside Dublin
Learn about the myth and legend behind The Giant's Causeway and enjoy amazing views at The Cliffs of Moher and Cliffs of Aran.
If you are a city person like me, organize a trip to Connemara & The Aran Islands. Visit Kylemore Abbey, oyster farms and cycle around The Aran islands. Seafood lovers should visit Galway for fresh oysters and lobsters.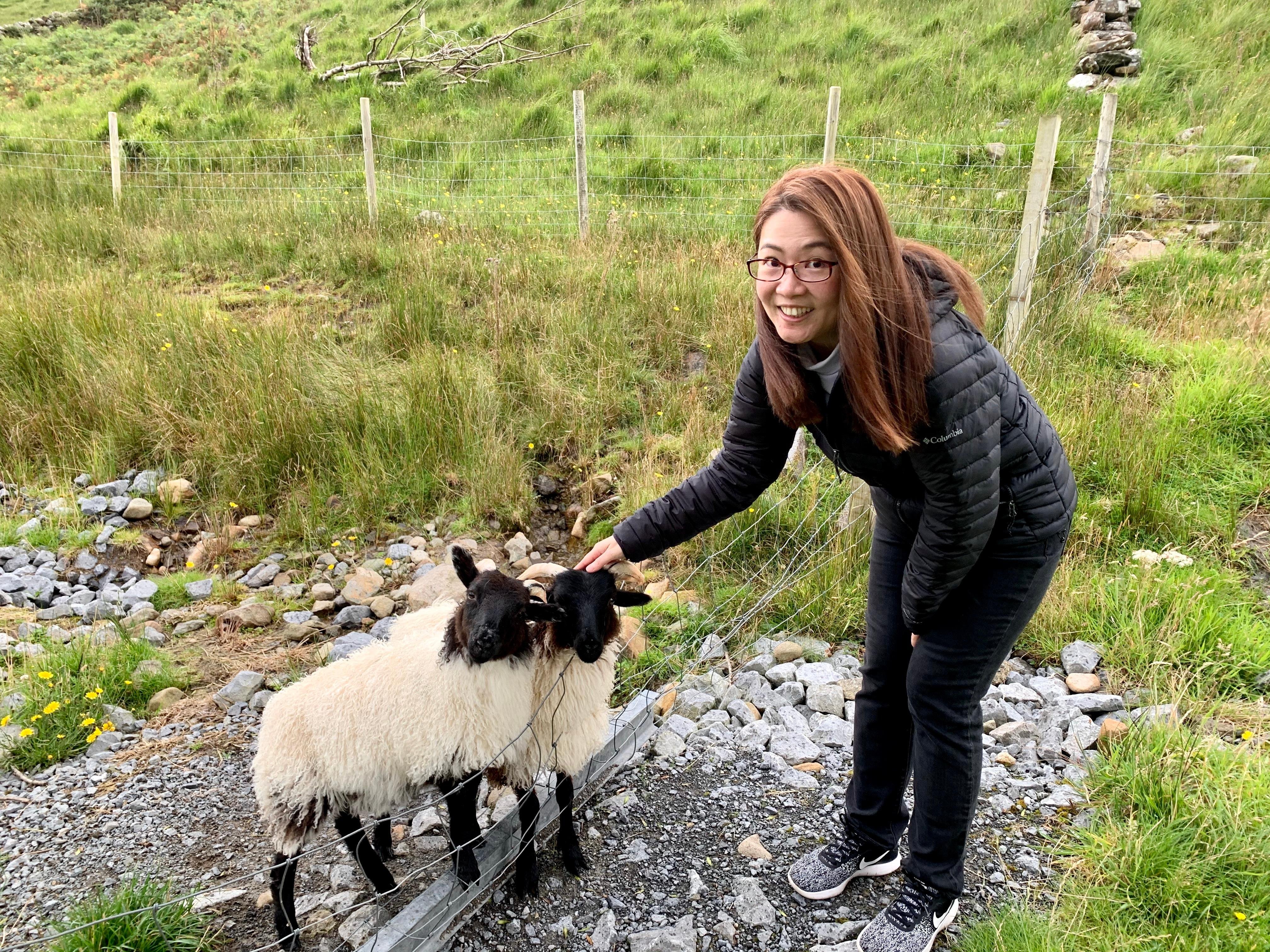 Sheep dog herding in Finny, Clonbur!
Another unique town to visit is Westport – great food, amazing people and a beautiful town with interesting knick-knacks, gifts and handmade local candies. Game of Thrones fans should visit Belfast, to sit on the Iron Throne which rules the Seven Kingdoms.
Hiking enthusiasts should consider Howth, Glendalough and Croagh Patrick. I enjoyed all the hikes and survived the latter to share the experience.
If you like the beach or promenade, consider taking the train or drive to Killiney beach, Bray, Skerries, Achill island, Salthill, Portmarnock and Kerry. There are interesting lakes as well, such as Lough Tay a.k.a. Guinness Lake.
Key highlights for me were Alpaca trekking in Wicklow and sheep dog herding in Finny, Clonbur. I learned so much about alpacas and even got to walk and feed them.
City tours to the Guinness factory, distillery tour and whiskey tasting with friends and hanging out in local bars for pints were amazing ways to connect and make new friends. Conversations I've had range widely from speaking to music artists on sabbaticals to science and laboratory work across different bars and to hear DJs spin a few classic 90's and 00's.
Don't forget to check out the Halloween Parade in Galway and Wild Lights at Dublin Zoo. You can also travel within Europe to enjoy wonderful Christmas markets and amazing food in Munich, Vienna, Salzburg, Hallstatt, Porto and Lisbon.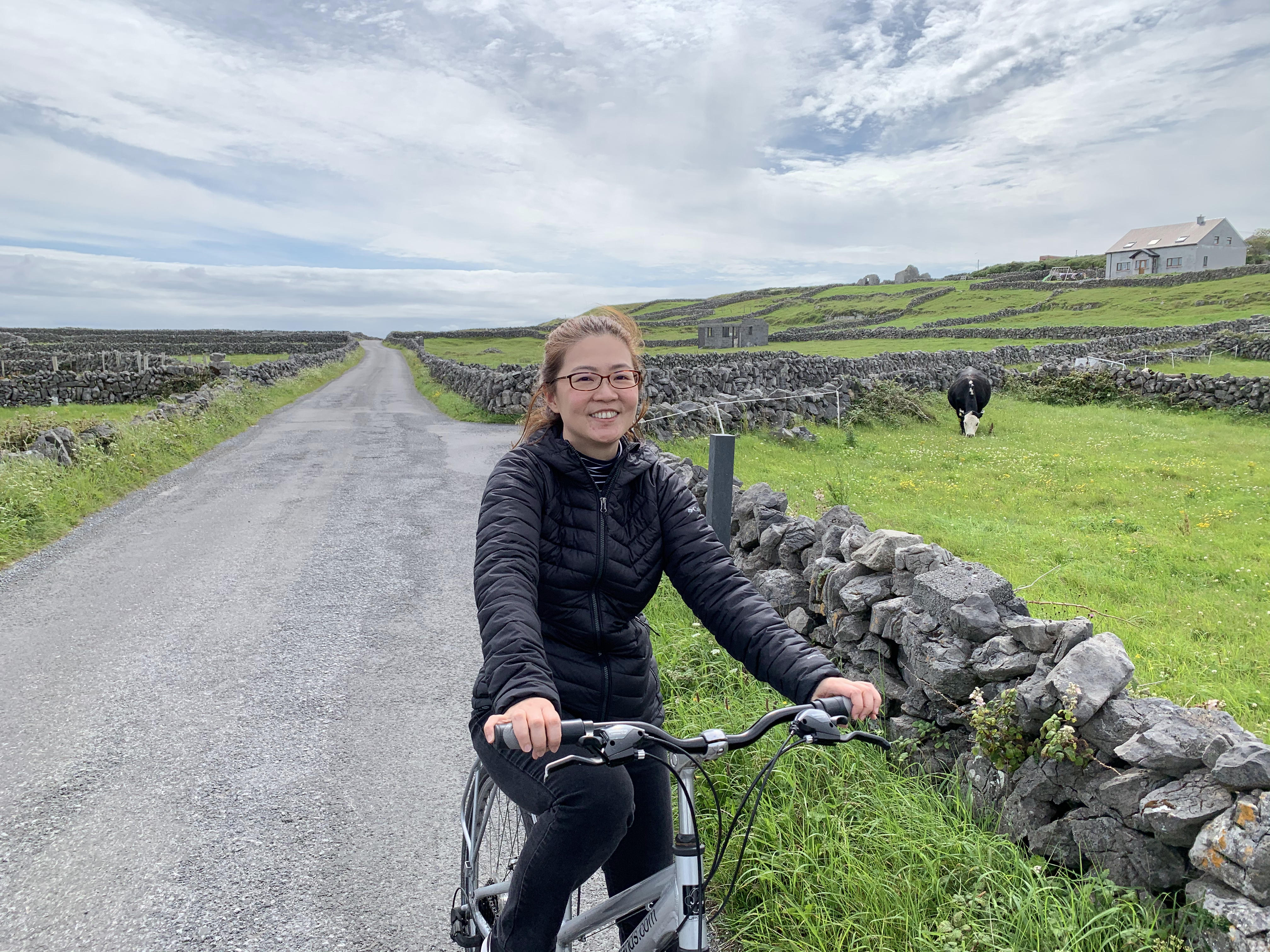 Visiting the neighbours
Step 8: Traditional Irish Culture
Experience dining in smaller restaurants that serve amazing food. There are many in town and outside of Dublin and take a chance on the catch-of-the-day and enjoy produce which is delivered fresh from farms in Ireland. Ireland has something called soda bread or brown bread, white scones and amazing beef and lamb which makes good stews and steaks.
The locals are friendly and genuine. Small business owners and helpers are helpful and polite. When hanging out in the bar, everyone will take turns to buy drinks so get your card, watch or phone ready to buy the next round! The more rounds, the merrier. Don't feel under pressure to take part in 'rounds' however!
Step 9: Getting to Know Trinity
You will spend a lot of time in the Trinity library and the business school. There are many study pods available at the business school. If you are having a group study or discussion, you can also book rooms in the business school or the library through the university website. Each room comes with a whiteboard and markers to facilitate group discussions.
MBA students are allowed to print out necessary materials from printers within the business school building and the libraries. Make sure to follow all the instructions given by the university and Datapac.
There are a few cafés within the campus to grab a bite, such as The Buttery and also The Forum Restaurant (which is located on the ground floor of Trinity Business School) for good specials of the day. Visit the beautiful Long Room (which reminds me of Hogwarts - for all the Harry Potter fans out there) and wind down the day with a few pints of Guinness at 'The Pav' campus bar while the sun sets.
For caffeine essentials, head over to Cloud Picker and Honey Truffle for a good cuppa and while you're at it, why not grab a cookie or croissant for breakfast and sandwiches or salads for lunch. The quality of food is amazing.
Go-to lunch spots outside of Trinity are Sprout, KC Peaches, Subway, Camile Thai, Yum Thai and Mama's Revenge for that Mexican craving.
Plan out your journey to the University taking into consideration morning traffic. If you are new to Blackboard, try to log in 5-10 minutes earlier with the access link.
These should give you a good sense of bearing to kick start the Michaelmas Term in September. All the best and enjoy the MBA programme!