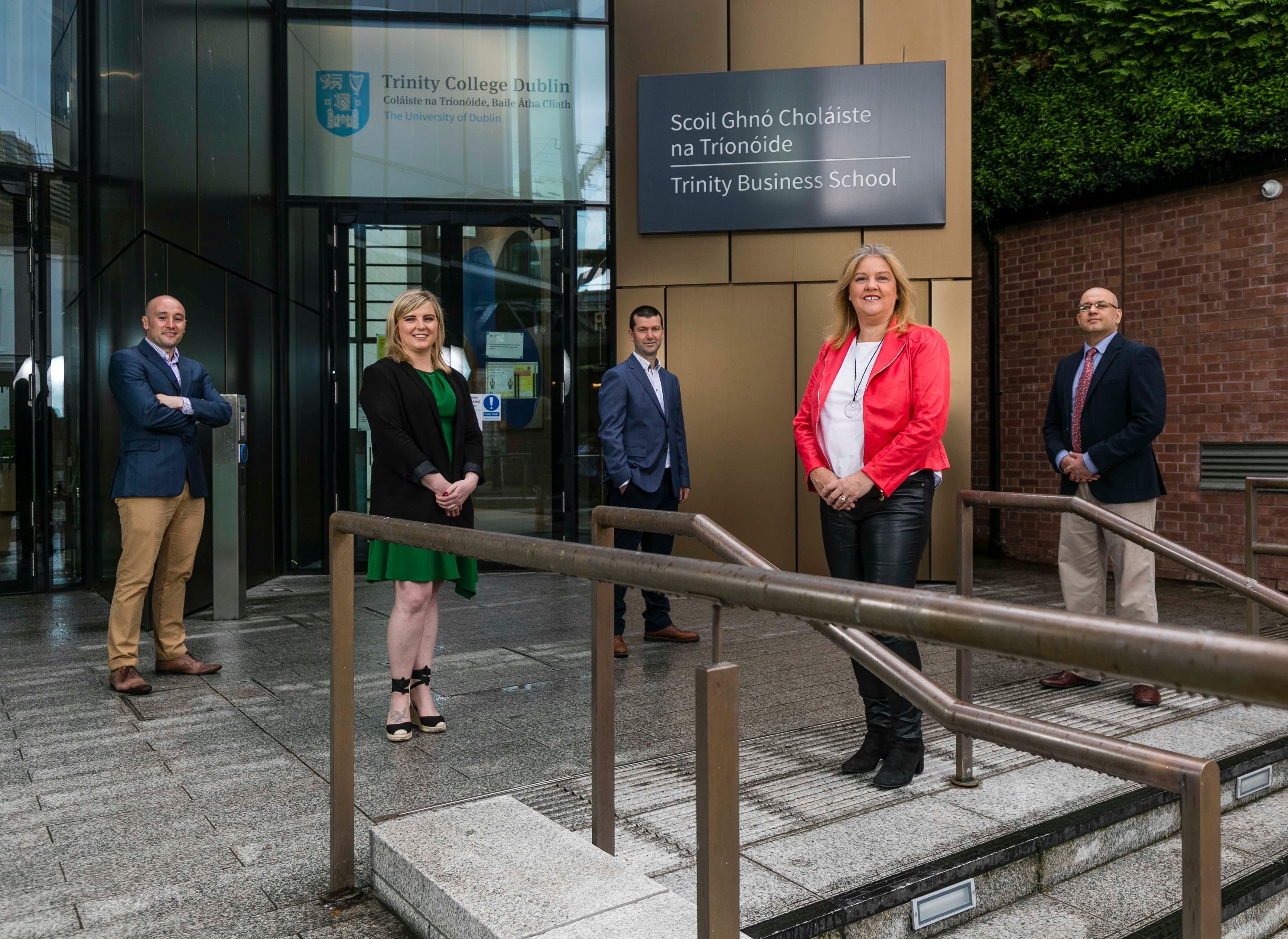 The MBA team (above) are: Kevin Fenlon, Caroline Curtis, Vinod Malik, Colm Freeman, Emma Whelan, and Kevin Fallon.
Trinity Business School
Executive MBA students recently helped develop a new service for frontline workers and others affected by COVID-19 in Ireland as part of their Company Projects Module.
MyMind, an Irish organization supported by Slaintecare and the HSE, provides access to free mental health support services through its online platform for those affected by the pandemic.
Trinity's Company Project initiative aims to help the school's EMBA students gain experience in new industries and organizations, and MyMind offered EMBA students an opportunity to utilize their varying expertise to solve an immediate, real-world business problem.
Trinity tries to match different students' strengths to optimize different projects, and the group of six EMBA students on the MyMind project certainly brought their own unique skills to the table. For example, one team member – Vinod Malik – is a doctor, whereas other team members brought their skills in marketing or IT, meaning all bases were covered for this project to be successful.
The Importance of the Company Projects Module
The students TopMBA spoke to were very excited to get involved with such a worthwhile initiative, making it so much more than a module.
Caroline Curtis said: "We got a lot of exposure to MyMind and a chance to really get involved. We talked to external counsellors, undertook an online anonymous survey, gathered a lot of data and we looked at peer review modules for implementation."
She added she was able to get a deep understanding of mental health, and the innovative move of going online: "During the pandemic, we were literally living through it. I think as a result, people will be more open to online counselling. I think regulation will change."
Kevin Fallon said he learned a lot about social enterprises and the way they are funded and organized through the project. He said: "As someone who works in the IT industry, I looked at MyMind's technological solution, including online capabilities.
"Krystian Fikert (MyMind CEO) is certainly tech-savvy and I was really impressed with the way he has driven the implementation of a functional and scalable solution on Microsoft's Azure Cloud platform. MyMind are doing things in the right way for the organization to grow and be successful."
Vinod Malik said: "When you are working on the frontline as a physician, you're not too far from the scene and the effect Covid-19 was having on patients and healthcare professionals.
"Globally all of us have been pushed into a situation where we have witnessed a lot of raw trauma and experienced things which we would not have experienced cumulatively over a number of months or years.
"You're seeing a lot of morbidity and mortality in a short amount of time which does effect ones mental health, so by anticipating future needs to address mental health issues, the avenues offered by MyMind were innovative and impactful social endeavors. The irony of being part of this project was knowing the need and the way to address it, where the value derived would be impactful seeing it from both sides."
Why services like this are important
According to the participants, there has been a significant uptake in MyMind's services since COVID-19, and the service has subsequently adapted quite a bit since its launch in January 2020. Caroline said: "MyMind pivoted very quickly to provide online counselling and I think that they were well placed for it, particularly their inhouse bespoke technology."
During the pandemic, Vinod told us other diseases and mental health issues have been sidelined: "There are people in communities all over the world wrestling with their mental health and given the constraints of COVID-19, having an avenue to discuss and have your mental health addressed makes sense.
"As we live in a time of digital connectivity, COVID-19 has facilitated the adoption of disruptive technologies and MyMind is an example where uptake of services in the form of e-Mental health can bridge the gap for people with mental health issues by offering a window to communicate."
A safe space
The team's anonymous research survey enabled people to be more open and give honest feedback, as usually research in the mental health space is conducted in-person. By contrast, MyMind offered a secure space for participants to share more sensitive personal information.
Kevin said: "The amount of people that said they had attended online video counselling before was zero, but a high percentage said they would be willing to try online video counselling. We also discovered that most people expected to pay less for online video counselling when compared with face-to-face."
Ensuring innovative delivery of services
The team made a couple of recommendations to help MyMind achieve its full potential:
Partnering with the Health Service Executive (HSE)
Online counselling for direct provision service for refugees that wouldn't be able to physically get counselling
Partnering with the Irish College of General Practitioners
The team also suggested reaching out to remote farming communities. A 2018 report by the Men's Health Forum and the HSE found that farmers and people living in rural isolation are among the most vulnerable groups in terms of mental health.
Caroline said: "We also recommended they could leverage their technology. They could explore opportunities of licensing to organizations in other English-speaking geographies such as UK, US, Canada and Australia once they have operationalized the licensing process for Ireland. They could use it as a funding resource to grow."
A fulfilling and positive initiative
The participants all found the experience a worthwhile one. Kevin said: "Being fulfilled is not all about being paid for the work that you do - I think people have a lot more to offer that can benefit society at large.
"This process has given me positive learnings about social enterprises and a sense of just how many people need these types of services. No one knows what will happen after COVID-19, but I think MyMind will continue to thrive due to its online capabilities and astute leadership."
Telemedicine isn't new and has already been used to provide care for communities in rural settings, but it's just the start for e-mental health, a service that may well become essential.
Vinod Malik said: "If we can conduct virtual clinics for patients with cancer, chronic diseases and post-operative care, extending the same for mental health is a step in the right direction.
"Medicine should be accessible to all and after a long period of marginalization, mental health is now starting to be appreciated and valued for its importance to wellbeing." Vinod also said being part of MyMind imprinted the value and impact of social endeavors, something he can take away to his own community.
Digitalization of healthcare
Healthcare is becoming more digitalized, and COVID-19 has accelerated this. Kevin said they'd discovered a lot of GPs wanted to change the manual processing of prescriptions and digitalize their practices but had been constrained by the pricing of technological solutions offered and legal issues.
He added: "Due to COVID-19, the government has had to react and pass legislation to make their service less restrictive. GPs are finally going digital and they believe it's here to stay."
The students feel that COVID-19 has provided context to question traditional modalities through creative and innovative methods like e-counselling and online services to address people's needs and wants. MyMind is about making the conversation on mental health accessible while removing the stigma and fear.