Trinity Business School offers multiple scholarships which are merit-based and aim to promote gender, geographic and sector diversity, alongside recognition for academic and professional excellence. The 30% Club Women in Leadership Scholarship Programme is one of these scholarships, which is delivered in partnership with the 30% Club Ireland for female candidates who demonstrate outstanding leadership potential.
The 30% Club Scholarship aims to foster greater representation of women at executive level in business organisations. 2017 Scholarship recipient Dr. Clodagh Conway, who is a Medical Assessor at the Department of Social Protection, talks about her scholarship journey, and offers advice to future applicants who wish to apply for this unique scholarship programme. Clodagh also discusses how coming from a non-business background she saw how equally diverse the backgrounds were of her fellow MBAs on the programme.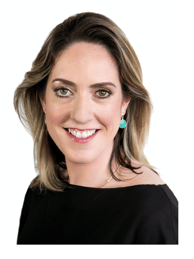 MBA Alumna Dr. Clodagh Conway
My Background
"Hello, I'm Clodagh Conway and I'm from Sligo in Ireland originally, but prior to starting my MBA at Trinity I had lived in Melbourne for almost six years.
My background is in medicine, which I also studied at Trinity, and after specialising in general practice decided to fulfil my lifelong ambition and work in Australia. Tempted as I was to staying, I'm delighted I came home and completed another life changing milestone with the Trinity MBA.
Choosing Trinity
I was attracted to Trinity Business School as I had been a student at Trinity previously and had many happy memories! I also appreciated how central the business school was practically which just made life easier when travelling to lectures or team meetings from work.
Concerned as I was applying having a non-business background, Trinity were very understanding and connected me with a fellow medic who had graduated the year prior. Our conversation was literally life changing, and whatever doubts I may have had about applying, were quickly forgotten afterwards. I remember her saying "The MBA changes the way you look at the world", and how right she was.
Having completed the MBA now, I would strongly encourage others like me with non-business backgrounds to consider applying. My class I now realise was enriched by students from many sectors including IT, Engineering, Arts, Health and Aviation for example. By providing such diversity you can imagine the insights gained by the class and the value added to discussions and feedback sessions throughout the MBA!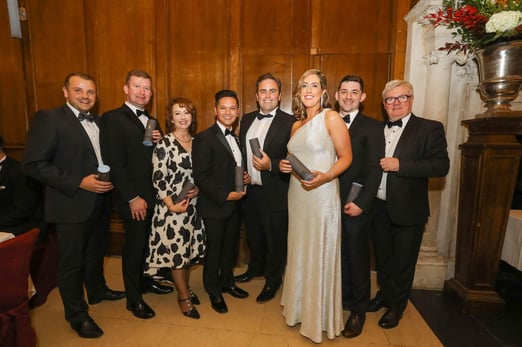 MBA awards with my scaling project team 'Merrion'
The MBA Experience
I completed the Executive MBA (EMBA), which meant I could work and also complete the programme over two years, part-time. Lectures were held every Monday and Tuesday evenings, which helped me manage my workload across the week. Luckily we had a great selection of lecturers who kept the learning dynamic and interactive when in class.
It was a steep learning curve but again I felt very supported by Trinity and of course by my classmates and teammates. There was a real sense of togetherness, and this was highlighted even more to me when working on our Company, Social Enterprise and Scaling projects.
There were also opportunities to meet with other MBA students, both past and present, at many Trinity Business School events throughout the year, as well as through a selection of overseas electives, which for me included an unforgettable sustainability elective to Cape Town.
Mary Robinson, Former President of Ireland and Former UN High Commissioner for Human Rights, speaks at an MBA Masterclass on 'The Business of Climate Change'.
The Impact of the 30% Club 'Women in Leadership' Scholarship
Being awarded the 30% Club Women in Leadership Scholarship was an honour for me and demonstrated how progressive Trinity Business School is in encouraging and supporting female leaders. Obviously being awarded the scholarship was welcomed financially, but it also has connected me with other recipients in the 30% Club, which is helpful when discussing career progression.
The Women in Leadership Scholarship has also benefitted me in my career by giving me the confidence to be recognised as a female leader and volunteer for larger scale inter-departmental work projects or, more recently, suggest changes and potential improvements to work practices during the pandemic.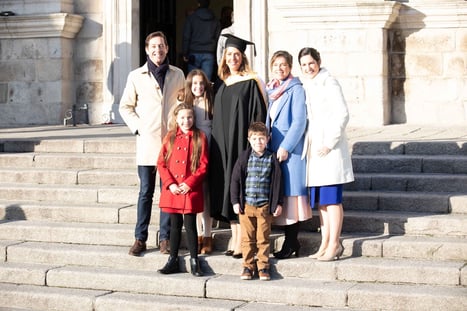 With my family on graduation day. They supported me throughout.
Advice for Applicants
From my experience, my one take-home message for future applicants would be to not underestimate yourself or the value you can bring to the MBA programme. At the outset you may not realise this, but throughout the programme you will come to learn more about yourself, how you learn when in a supportive environment and how your thoughts and ideas are as valuable as others'.
I found speaking with alumni helpful in confirming my decision to apply, but ultimately I think being authentic about your motivations when applying is essential. Interviews are not my favourite if the truth be told, but I found by just being myself I could answer the panel's questions more easily and perhaps that helped my authenticity shine through too!
MBA Impact on my Career
I work as a Medical Assessor in the Dept. of Social Protection which has undergone significant work practice changes since March, and I have found the MBA strategy and leadership modules across first and second years especially helpful in managing these.
An elective I also found particularly useful when working across different teams within the Dept. and helping to plan our strategy was the "Negotiating for Value" elective. I have fond memories of our time spent in Leuven at the Irish College where, amidst beautiful surroundings I also learned so many important lessons in the art of negotiation which I was able to apply in my work practice confidently.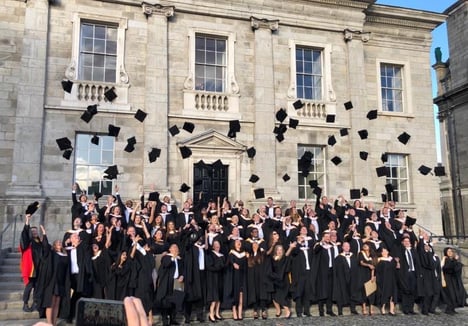 Hats off to that!
Thankfully our Department recognises the importance of the health and wellbeing of its workforce, and during a pandemic this has been enforced even further with webinars and even zoom yoga classes some weekday mornings!
Balancing the daily stresses of work and life, along with the uncertainties of the Corona virus I feel has been made a little easier for me thanks to my learnings on the MBA and through practical self-care strategies I used throughout the programme. I feel empowered to share these with colleagues across my Department which gives me a sense of purpose and meaning in my role, which I feel would not have been possible without the MBA programme.