Since you don't write your own references, this is less a guide about how to submit a good reference and more tips on how to ensure this part of your application is fulfilled as efficiently and painlessly as possibly.
Student Recruitment Officer Ella Halfacree discusses below some of the most common questions we receive about references.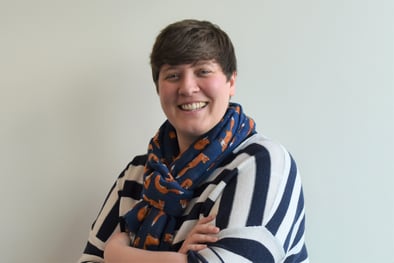 Student Recruitment Officer Ella Halfacree
How do I submit references?
"When completing your application form you will note a section at the bottom allowing you to populate contact details for your chosen referees. Ideally these will both be academic referees from a third level institution where you have studied, however, we would accept one professional and one academic referee. Once you have submitted your application form, a reference request email will automatically trigger from your portal to your referees; this will include an official TCD reference template and a link that will allow your referees to upload the reference directly to your portal themselves. If you have already been provided references then you may upload them to your portal yourself.
What is the correct format for a reference?
A reference must be submitted on either official headed paper or the TCD reference template provided in the reference request email. It must be from either an academic that taught you at a third level institution or a professional manager for whom you have worked. It must be signed and dated within the last year.
Application FAQs
What sort of information should be included in a reference?
The reference should give an impression of you as a student/ employee rather than simply state that you studied or worked somewhere so ensure you nominate someone who knows you well enough to provide this level of detail. Chances are anyone you ask to give a reference on your behalf will have provided one before so should have a fairly good idea of what is expected but a standard reference would include (among other things): confirmation of your contributions in class (or work if a professional reference), your level of ability, attendance, whether or not you work well in groups etc and generally whether they believe you would be suited to further study.
My referees did not receive the reference request email – what should I do?
You can contact the admissions officer for your programme by emailing Business.Masters@tcd.ie and they can send on the reference template to your referee or you can contact the central admissions team at academic.registry@tcd.ie who can access your portal and attempt to re-trigger the email. However, it's important to ask your referees to check the junk/ spam folder of their inbox just in case they did receive it.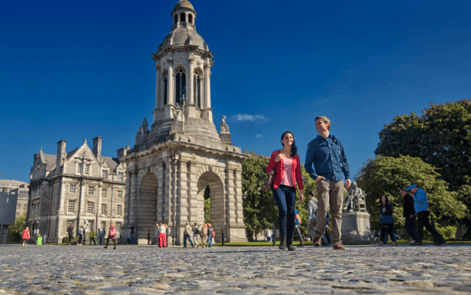 The Campanile, Trinity College Dublin
I need to change one or both of my referees – is this possible?
This is possible, you can do this by emailing the central admissions team at academic.registry@tcd.ie who will trigger a referee amendment task to your portal, this will allow you to amend the email address of your referee(s) so the reference request email can be re-triggered - alternatively you can contact the admissions officer for your programme who can send the reference template to your new nominated referee.
Can I submit a reference from a secondary school teacher or sports coach?
Academic references must be submitted by someone who taught you at a third level institution so references from a secondary school teacher would, unfortunately, not be accepted. Similarly, a reference from a work colleague who is not your manager would also not be accepted.
Application Tips & Advice
My professional referee received the academic reference template, how do I get a professional one?
Since the standard requirement for the university is two academic references, there is only one version of the TCD reference template which is tailored towards providing an academic reference. If your professional referee is unable to submit their reference on company headed paper they can of course submit their reference on the TCD template provided but should disregard any sections pertaining to academic achievement.
My offer states that one of my references has been accepted, how do I find out which one?
You should be able to see on your portal which one of your references has been submitted (and more importantly which one hasn't) but if you aren't sure feel free to email your admission officer at Business.Masters@tcd.ie who can access your portal and check.
Any other hints and tips?
Keep in touch with your referees – make sure they are aware that you have nominated them as a referee – this is important for many reasons, firstly, out of common courtesy so they are not surprised by the arrival of an email from us, secondly so that they know exactly who they are providing a reference for (occasionally referees reach out to the university to request information about someone who has nominated them as a referee and unfortunately the university cannot provide any additional information due to GDPR).
Furthermore, it's important that you are in contact with your referees to ensure you provide the correct contact details for them – sometimes faculty members have retired or moved to a different institution since you last contacted them, and for your own sake you probably want to ensure that this person would be willing to provide a reference for you (a positive one anyway!).
Lastly staying in touch with your referees could significantly reduce the potential for delays – references are the only part of your application that you yourself are not responsible for submitting but they are very important so you should be comfortable enough with your referees to reach out and prompt them if required!