MSc in Finance student Max Manning started as a student at Trinity Business School this year, having transitioned from a background in engineering. He talks about the transition, his time at Trinity, and how he is finding the MSc in Finance programme so far.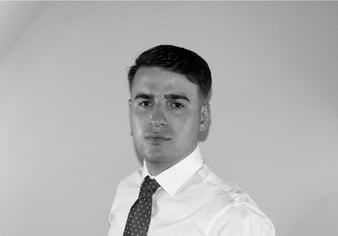 Max Manning
Changing Career Industry
Engineering was a fantastic base degree for me and taught me some very valuable skills especially in maths, statistics and problem solving. However, there comes a point when you need to find what drives you to work and makes you happy. For me, this has always been business and entrepreneurship, both are generally going to involve an investment that will hopefully grow in value over time. The better you can predict what the factors are that will affect what happens to your investment, the greater your expected return. In order to equip me with the tools I would need to be successful in business and finance, I chose the MSc in Finance.
Coming from a STEM course I had a good foundation going into the Master's, however, that's about it. I knew very little about anything finance-technical. Gaining an understanding of accounting basics and principles was probably the hardest aspect of not coming from a business background.
It has been absolutely worth it. I have learned quickly and it is a fantastic course that will adequately prepare anyone for almost any career in finance.
Choosing Trinity and the MSc in Finance
Trinity is local to me, has a brilliant history and is highly regarded internationally. That being said due to COVID-19 there was limited access to the school, but the head of the course, Dr. Sam Vigne looked after us very well and did his best to maximise safe, face-to-face learning when guidelines allowed.
I chose Trinity Business School as the courses on offer and the alumni of the school were what initially attracted me. I had also been there quite a few times before for the TES Dragon's Den competition and I really liked the atmosphere and the modern design. On top of this I had heard excellent things from some past students who I had by chance worked with over the previous summer.
The MSc in Finance Programme Overview
I chose the MSc in Finance as it appeared to give a great all-round insight into finance, had excellent teachers and a great elective offering, (notably the highly regarded private equity module, led by Dr Kyran McStay of Key Capital Partners), as well as having high post-graduate employability.
The learning is interactive and confidence inspiring, online works well, where we are encouraged to participate and the staff had made a big effort to accommodate us where necessary. Group projects also form a lot of the workload which is great as I get to meet new people from around the world. My favourite thing so far about Trinity is the classmates I have met and the wealth of knowledge I have gained, which is above and beyond what I would have thought possible in a one year program. I am also on the Trinity CAIA scholarship which is a serious challenge, Trinity is accredited by CAIA and CFA, both are very important for more premium career paths.
Getting Involved in a Student Society
I joined the Trinity SMF student society when I started studying at Trinity. I am involved in two teams, the Trading team, where we hear from people in the industry, prepare pitches and learn about trading techniques, and the Macro team, which takes a more global outlook where we produce material for the SMF website and publishing's, last semester I wrote a piece on US fiscal policy and the outlook for the US presidential election and the macro factors set to be impacted by it.
There are too many skills to list that I've learned from this experience, but in short you will learn how to analyse companies, value them and you also get access to fantastic guest speakers, to name a few perks. I'd 100% recommend getting involved.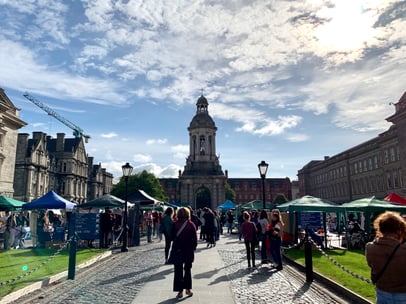 Front Square, Trinity College Dublin
Advice
Read "a random walk down Wallstreet", follow the Financial Times (you have a free subscription as a Trinity student) and financial press in general, if you have an interest in business or finance or are curious about how the financial system operates then you can't go far wrong. If you are really unsure I would recommend looking at a quick free online course or YouTube to get a sense of what working and learning in finance is all about.
In terms of getting involved with a student society, I can only vouch for the SMF, but for me it is an essential undertaking for a well-rounded graduate.
My last piece of advice is - try and become an expert with Excel!