As the 7th most international university in the world according to The Times Higher Education Rankings 2020, Trinity College Dublin is known for its large postgraduate student body. Many of these students seek to enter the Irish job market upon graduation, which is made possible by its unique two-year graduate working visa . Dublin is home to a vibrant job sector, particularly in the areas of tech, accounting and finance, and is home to many tech giants such as Facebook, HubSpot, Google, Twitter, LinkedIn, and more.
MSc Financial Risk Management alumnus Swapnil Singhal is one such person who departed India for Ireland to study the MSc in Financial Risk Management. He is now a Financial Accountant at ICON PLC. Swapnil talks about why he choose Trinity Business School, how it impacted his career, working in Ireland, and also offers some tips and advice for prospective students from abroad who are looking to make a similar jump in their careers.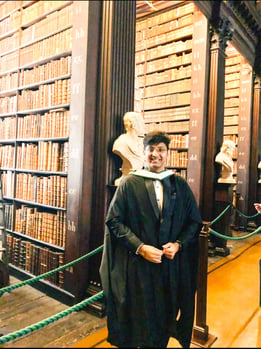 Swapnil Singhal
My Background
My name is Swapnil Singhal and I work as a Financial Accountant at ICON PLC. here in Dublin City, Ireland. Prior to acquiring my Bachelor's and Master's Degree in Commerce in India, I worked in various firms as an intern followed by working as a Credit Analyst at American Express in Gurugram, India. I moved to Dublin in 2018 to start a new chapter in my life and chose to pursue the Masters in Financial Risk Management from Trinity Business School. Having never lived away before from my home for studies or for my work, it was a difficult decision to move to a completely different country.
I was very grateful when I received the Prestigious Government of Ireland scholarship which is awarded to 54 students around the world who get selected to study at various colleges in Ireland. It was a great contribution in helping me achieve my dream.
After successfully completing my last semester at Trinity and with the continuous support from the dedicated postgraduate career services team, I landed an interview with ICON PLC., one of the world's leading Contract Research Organisations and a global provider of outsourced development and commercialisation services to the pharmaceutical industry.
Choosing Trinity and the MSc in Financial Risk Management
For me, choosing Ireland was an easy option as Ireland is the hotspot for major investments and the location of choice for many Big Companies when choosing their European Headquarters, which increases the scope of job availability. Also, the 2 year Graduate Visa which Ireland offers for students provides them with ample time to land their dream job upon completion of their studies.
I chose Trinity for a number of reasons. Firstly, Trinity is one of the most prestigious and recognised colleges not just in Ireland but globally for its dynamic culture and for its availability of resources. Secondly, the business courses that Trinity offers are some of the top ranking courses in Europe.
I chose the MSc in Financial Risk Management as the modules of the course were in line with my interests and the career path which I intended to choose. All the modules in the course were highly practical which were based on giving a huge exposure to financial market problems and tackling the issues and risks associated with them. The 24 hour access to Bloomberg Terminal in the dedicated 'Bloomberg Room' at Trinity Business School made the concepts easier to understand as we were putting our theoretical knowledge to practical use.
Career Development with an MSc in Financial Risk Management
In depth knowledge and practical exposure to various Financial Market problems was the key takeaway for me from the MSc in Financial Risk Management programme. From this course, even a person from a non-finance background can learn about market risk and credit risk which are involved in running a business, joined with an understanding of ways of investing money in the capital and futures market and the risks associated with it.
This course has helped me achieve a lot in my career. It has helped me be aware and understand the risks relating to major transactions in the company and how those risks can have an impact on the company. It has helped me overcome my fears of investing in the market as I now see myself being more aware of the concepts and strategies of investing and getting better returns.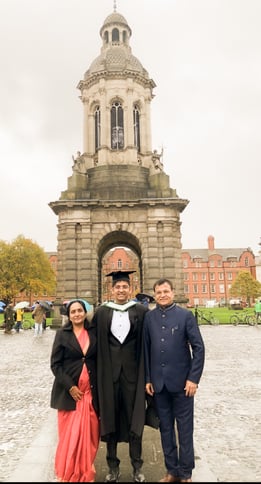 Graduation with my parents

It is always difficult for a person to move to a different country and adjust to a new environment with different cultures. But, my move to Ireland has proved to be a desirable career move from India as there are more opportunities and more learnings, healthy competition and good recognition. Also, the best thing about working in Ireland is the diverse work culture which the companies provide as you will be working with different people from different parts of the world. There is a lot to learn how different people have different approaches to the same situation. Working in Ireland has helped me increase my knowledge along with a perfect work-life balance.
Applying the MSc Learnings in my work
There is no doubt that I learned a great deal about the MSc in FRM domain during the programme. The major learnings were understanding the market, and credit and operational risks which surrounds the functioning of a company. Especially after the global financial crisis in 2007 it was important to understand the reasons behind the crisis in order to avoid such a possibility in the future not just as a company or for each individual practising in the market. My learnings from the course made it easier for me to understand the risks behind the crisis and how it can be possible to avoid or to have minimum impact if such a crisis happens in the future.
Because of the practical experience and knowledge gained through the course, I am more confident and involved in capital and future market trading.
My current role in ICON PLC is more into analysing, reviewing and budgeting of an entity and to forecast the revenue which also involves avoiding risks related to big transactions and how they should be accounted for. ICON PLC., which is headquartered in Dublin, is a great place to work as each individual is treated equally and given equal chances of growing inside the company. With the continuous support from higher management, a person can learn a great deal of things and can get involved in the decision-making process.
Advice
Coming to Ireland and studying at Trinity College Dublin was a life changing experience. I could never see myself doing things which I did during my one year course. A lot of people get fascinated because of huge job vacancies online in the field of finance. No doubt there are huge vacancies but one has to set goals and decide which role they are looking for. When the goals are set then they need to work on their C.V. Completing online certifications which are relevant for the aspired role will help one stand out in 1000's of applicants applying for the same role. Choose your electives wisely which will help you in your career and not just to gain marks.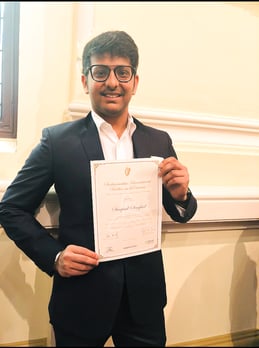 My Government of Ireland Scholarship Certificate

One has to be patient enough as sometimes it can take months before landing a job. It is true that everyone wants to be the best but this should be followed by healthy competition. Socialise with your classmates as you can learn a lot from them. Talk to your professors occasionally and discuss your future goals with them as they are the industry experts and can help you give good suggestions which will indeed help you achieve your goals. Try to have frequent 1-to-1 your career counsellor as they are the best guides available in case you are going wrong with applying jobs, with your CVs.
Also, a lot of people come to Ireland on loans and try to get into part time jobs during the course. I recommend that you avoid that mistake as the course requires a lot of hours and because of the part-time job you will definitely miss out on a lot of learnings.
Last but not the least, I urge students to take out some time in-between your studies to explore this beautiful country.