Ranked 1st in Ireland, 1st in Western Europe, and 1st in the world for E-Business and Digital Marketing (Eduniversal 2019), the MSc in Digital Marketing Strategy introduces students - via a range of diverse modules - to the overall digital marketing ecosystem that focuses on the skills they need to effectively plan, design and implement strategies that add value to organisations.
Current student Aoibhinn Raleigh talks about her experience so far of the different modules available in the programme, the lessons she has taken from them, and gives some tips and advice on choosing your elective modules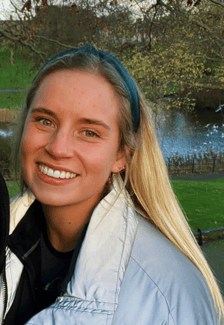 Aoibhinn Raleigh
Choosing Trinity and the Masters in Digital Marketing Strategy
On completing a Bachelor of Science in Multimedia, I knew my educational journey was not yet complete. I wanted to pursue a degree that would deepen my business acumen and provide me with the business knowledge to compliment the skillset I developed throughout my time as an undergraduate.
The MSc in Digital Marketing Strategy had been on my radar from day one of my undergraduate degree. Within the first week of my time at DCU I had already been presented with the MSc brochure and enlightened on the benefits of undertaking this programme (cheers dad). However, parenting skills aside, attending Trinity College was always an aspiration of mine.
Ranking in the top 150 universities in the world and with one of the most stunning campuses I have ever seen, it it was without a shadow of a doubt up there in my top picks. Learning of the MSc in Digital Marketing Strategy's course ranking only further grew this aspiration. Ranking 1st in Ireland and Western Europe for E-Business and Digital Marketing meant there was no question in my mind when it came down to applying and embarking on a master's programme, the MSc in Digital Marketing Strategy was my only option.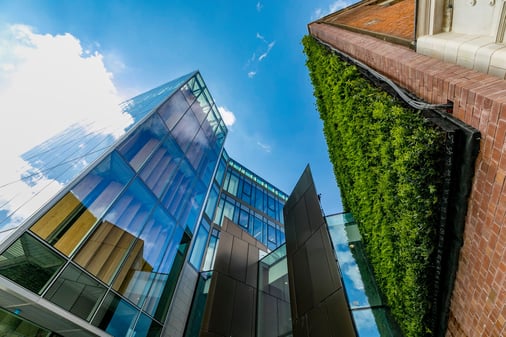 Trinity Business School
Prior to accepting my place on the course, I tried to link up with as many past alumni as possible to gain insight into their experience on the course. I was not surprised to be met with glowing reports of the course and various different pieces of advice which have really helped me along my journey through the MSc in Digital Marketing Strategy. On talking to the various alumni the communal spirit of the course really stood out to me. Each individual I spoke to not only wanted to help me but also spoke so highly of their comrades and the help they all provided each other with throughout the course.
Having a good support system is crucial throughout any phase of your life, but having one to help you get to that ten thousandth word when you truly believe there is nothing left to write is majorly important when undertaking a masters programme. Furthermore, I had heard of the amazing support Trinity Business School provides each one of its' students in terms of career guidance, the 92% rate of employment post-graduation further solidified this information. This was an integral part in why I chose Trinity Business School as I wanted to not only further my education but prepare myself to the best of my ability for my future career.
Modules in the MSc Digital Marketing Strategy
One of the great things about the MSc in Digital Marketing Strategy is there is a tonne of modules and a lot to learn – albeit this doesn't seem so wonderful when it comes to assignment deadlines. This year our modules have been mostly online, delivered via pre-recorded video sessions, live lectures, readings, guest talks and group activities. There is definitely always something to keep you busy. Every module has an element of group work as part of your assessment so it is important to get to know your fellow students and figure out your group dynamic early on.
Choosing your electives can be a daunting process as they are chosen before you embark on the course. In choosing my electives I first reached out to alumni via LinkedIn to gain insight into their experiences of the various electives and collected this information. I then weighed up my own interests alongside the reviews of each module and the module descriptions.
Programme Overview
It was important for me to choose things I had a genuine interest in doing as I find these easier to study, as opposed to choosing an elective because John from LinkedIn loved it but the various pieces of advice I had obtained definitely aided me in ranking my top contenders. After discovering what my top interests were I ensured they were electives which aligned with the career paths I could see myself following. Personally, sales has always been an area of interest of mine and a career I have performed well in so ensuring Sales Management was one of my electives was a must.
One module which was particularly rewarding was "Digital Marketing and Strategy" led by Professor Laurent Muzellec. The course divulges the many ways tech businesses collaborate and compete in a digitally driven economy. Furthermore, this module gave us the opportunity to work with and present to the Irish Government regarding their online presence and services.
This was an amazing opportunity in which I could better my knowledge of the customer journey as well as further improve my presentation skills. The course content was delivered in a very engaging way each week, ensuring each student was involved throughout the lecture and provoking much discussion amongst the course.
Every module you undertake throughout the MSc is invaluable in its own right. I have received numerous amazing opportunities within each module to work on my personal and professional development, learn from fantastic mentors and be exposed to case studies and guest speakers which have broadened my understanding of this digital age.
Emerging Trends in Digital Technology
The Emerging Trends in Digital Technology module provided a week full of insightful and exciting lectures delivered by Aidan McCullen, which truly challenged the who, what, when, where and why of the future. This module was run over an intensive block week. Each day we had the opportunity to virtually meet and learn from some of the best minds in the business; including Mark Esposito on his theory of DRIVE, Johnny Cosgrove on VR Technology, Calum Chace on Artificial Intelligence and last but certainly not least, Edward D. Hess on managing emotional intelligence during this digital age.
These talks were preceded with lectures covering the course content in engaging and unique ways. At the end of the week groups of five students had to present on a chosen topic with the aim of demonstrating the various skills learned over the course of the week and linking together the various aspects of the module within one presentation.
Being able to pick the brains of such innovative minds over the course of one week is a once in a lifetime opportunity and not something I have previously experienced in any module. Alongside the course content, the week offered a lot of time for reflection and personal growth. Aidan's aim was to not only teach us about the tech world but to teach each of us how to perform and better yourself within it.
The module presented each student with a sort of 'professional toolkit', bursting with advice, tips and tricks to utilise going forward throughout our career paths. On a personal note, the human mind and behaviour has always been something which is of huge interest to me and a major part of why this module stood out to me so much. It really challenged my way of thinking and developed my understanding of why we, as humans, act the way we do and how technology can now intervene in our lives both for better and for worse.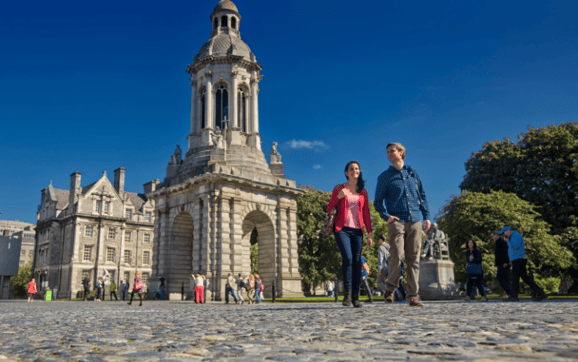 The Campanile, Trinity College Dublin
I think the standout moment of this module was the talk delivered by Edward D. Hess on managing emotional intelligence during this digital age. Edward D. Hess is an outstanding individual, who has done brilliant work in his field. In this talk Hess made an incredible point on humility in the workplace. Growing up in the digital age and always having technology at your finger-tips can lead to a sense of feeling as though you know everything and if you don't know it Google can certainly tell you the answer in seconds. This trait is not something that will benefit you throughout life, especially in your career.
If one cannot accept they are wrong or do not know something, one can never learn. Having the humility to admit such things is the true talent. Starting out as a junior in a company leaves a lot of room for growth and learning but only if you allow yourself to. This sense of humility is something I will aim to carry with me throughout my career, as well as in my personal life (this may even lead to a few less family feuds).
My advice for any student taking this module is to have a very large notepad with you because you will learn a lot – it is almost like listening to an engaging podcast every day, as opposed to a lecture. Make sure to think into the topics as much as possible and really challenge yourself and any pre-existing thoughts you may have had on the subject matter. The week is all about learning together, asking questions and getting involved, so make the most out of it.
Advice
My advice to anyone looking to study the MSc in Digital Marketing Strategy is stay proactive and don't lose your momentum. It is a course where there truly is always something to do, be it a group meeting, an assortment of assignments or what seems like a mountain of reading but keep tipping away at it and it becomes a lot more manageable. The MSc in Digital Marketing Strategy is hard work and at times it feels like the assignments will never end but the knowledge you learn on the way is priceless. Set yourself up with as much time as possible to digest books and reports, plan and compose assignments and attend as many guest lectures as possible, these truly are a priceless perk of the course.
Get to know your classmates as much as you can, they truly will act as your support network. The MSc in Digital Marketing Strategy brings people from various different backgrounds together and there is always something to learn from your cohorts. Don't be afraid to ask questions or even find a reliable study partner. Where you may be lacking in certain skillsets, others in the course will be flush with knowledge and more than happy to help.
Build up as many credentials as possible throughout the year. All major tech companies offer hundreds of certifications you can do online and many of them are free. These will come in huge help to you during the course and look brilliant on your CV. If you are currently thinking; "when would I have the time to do that, when there is so many assignments to do and reading to undergo?"… try cutting out binge watching Netflix after dinner and be as productive as possible with your free time. Of course, everyone needs some down time to but don't let the excuse of "not having enough time" stop you from achieving your true potential.
Interact with Patrick Phillips, the careers advisor and the rest of the team as much as possible. They will be a huge help to you in discovering what path you wish to follow in your career and how you can get there. Initially, this seemed like a daunting step to me as I had no succinct plan of what I wanted to do but Patrick is brilliant to talk to and provides a relaxed space in which you can discuss your future plans and discover more about yourself.
For students coming from abroad, I would recommend bringing a whole lot of fleece jackets and some good shoes for walking. Ireland has the most beautiful landscapes, mountains and coastal views to explore. If you are lucky enough to be beside one during lockdown, get out there and get Instagramming for all of us individuals stuck in the midlands.
Enjoy and embrace every moment as this is an opportunity that few get and only comes around once.