While many masters students depart Trinity Business School upon graduating, a separate but smaller number of alumni remain to pursue a PhD as the next step in their career.
One such MSc alumni is Sarah Heinz from Germany who completed her MSc in Finance from Trinity Business School in 2020. Since then, Sarah has started a PhD at Trinity Business School.
Sarah talks about this transition decision, what her experience of her PhD is so far, and offers advice to any student who is considering the idea of pursuing a PhD after their MSc programme.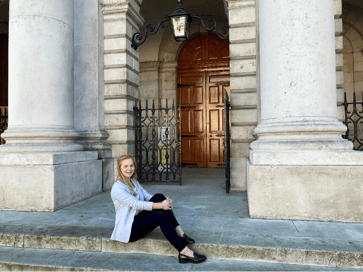 Sarah Heinz outside Examination Hall at Trinity College Dublin
My Background
Hey! My name is Sarah, and I am from Germany. I am more than happy to share my experience related to the MSc in Finance programme at Trinity College and my decision to stay at Trinity to pursue a PhD in Finance.
After completing my apprenticeship at a bank, I decided to proceed with a bachelor's degree in Finance in Frankfurt. I was always keen to gain work experiences besides my studies and got an insight into various departments in both industry and banks, such as Treasury & Corporate Finance, Audit for Financial Services or Risk Management & Controlling, through internships and working student positions.
During my bachelors, I had the opportunity to spend an exchange semester in Brisbane in Australia. I really enjoyed this experience: learning about a new culture and an amazing country, getting to know people with different backgrounds from all over the world, traveling together, and moving out of my comfort zone to study and live in an unfamiliar environment. So, I quickly decided on pursuing my master's degree abroad as well. And the decision was made to study at Trinity College Dublin!
Choosing Trinity
I have always dreamt of studying at one of these beautiful, old campuses that you have in mind when thinking about studying in Ireland or in the UK. Trinity College Dublin is not only beautiful, but also a prestigious and well-known university situated in the heart of an amazing and liveable city, Dublin.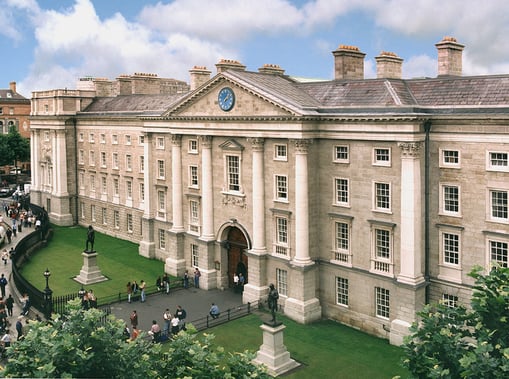 Front Arch Entrance, Trinity College Dublin
The MSc in Finance programme is highly ranked and just made it to #27 in The Financial Times MSc Finance Ranking in 2020. The programme indeed stands out with a high-standard 1-year approach, with relevant modules taught by professionals and the flexibility to design the second semester individually since most of the taught modules are electives. The programme connects people from all over the world which makes it an intense intercultural experience.
My MSc in Finance Experience
When I moved to Dublin in August 2019, I immediately fell in love with the vibe and the dynamic of this city. It is a great place to study! I really enjoyed meeting so many like-minded people who have similar interests but often diverse backgrounds. Talking about different experiences and backgrounds helped me to grow, to widen my horizon and to learn more about myself. Discussing topics with people who share similar interests helped me to become more critical and to get a deeper insight into different perspectives I have not thought of before.
I indeed made lasting friendships during my studies, and I am sure that I will keep these friends for a long time, if not a lifetime. We spent a lot of time on campus together, helped each other during times of desperation regarding assignments and exams, engaged in Trinity communities (for example working in analyst positions in the Trinity Student Managed Fund), but we also did great stuff in our leisure time. We spent time in pubs, we cooked together, we went hiking, spent a weekend in Galway, and much more.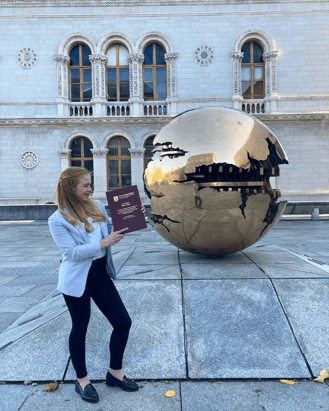 Sfera con Sfera, Berkeley Library, Trinity College Dublin
Pursuing a PhD at Trinity
I decided to pursue a PhD after finishing my MSc in Finance since I really enjoy doing academic research. However, doing a PhD does not necessarily mean that you have to stay at university, but it is definitely one option you obtain. Indeed, a PhD is a door opener to a variety of paths and opportunities. Apart from that, I am able to build a substantial network comprising of both academics and industry professionals.
The PhD programme at Trinity is not only about writing a PhD dissertation. I have to attend PhD lectures and I am involved in teaching. I am happy to support Dr. Samuel Vigne, programme director of the MSc in Finance, with the programme and I am a teaching assistant for several modules. I deliver weekly tutorials and really enjoy working with students!
My PhD research is on the lifecycle and growth path of venture capital-backed companies. Which firms do become unicorns? Is there a certain point in time that determines the path a VC-backed company will take? - Questions I will address and hopefully answer during my research.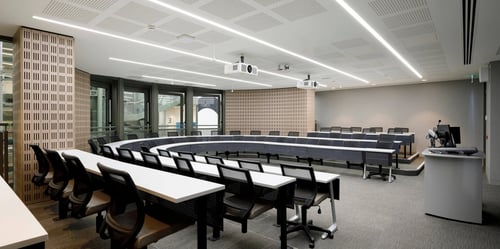 Lecture Room, Trinity Business School
Applying for a PhD
For anyone who is thinking about doing a PhD at Trinity after their master's studies, I would strongly encourage them to apply! PhD positions are popular but rather try than leave it untried, if you have a strong interest in research and in your field of study, I am sure you will be able to persuade your future supervisor and secure one of those PhD candidate positions.
Try to allocate enough time for preparing your PhD research proposal because this demonstrates whether you have your own research ideas, whether you can think critically and whether you are able to work academically. Do not be afraid to talk about your thoughts on doing a PhD with any of the lecturers. I am sure they will be glad to hear you are thinking about doing a PhD at Trinity. Also, if you have any questions regarding my individual decision, please feel free to get in touch and connect via LinkedIn.
Tips on Trinity, Dublin, and Ireland
You will definitely enjoy studying in Dublin if you like dynamic cities with a lot of things going on. Irish people are very open-minded, warm-hearted, and welcoming. For those who got to know Dublin during Covid restrictions and a series of lockdowns, keep in mind that this is not what the real Dublin is like!
Do not worry if you hardly find an affordable place to live in the city centre. From my experience it is way more relaxed and cheaper to go for places outside of the areas D1 (Dublin 1) and D2 (I live in D6 which is really nice), get a bike and just cycle in town/to college.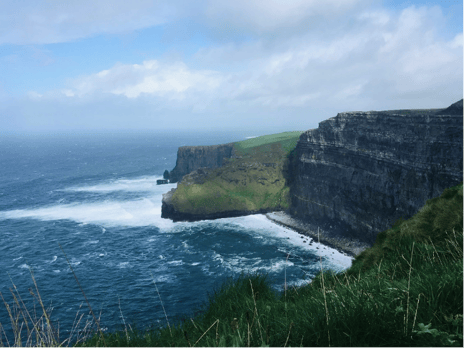 The Cliffs of Moher
I know it might not be the "best advice" a motivated PhD student should give, but I would recommend to not spend all of your time at college but also take some effective breaks exploring Dublin and Ireland. Ireland is a beautiful country with amazing countryside. So, once this pandemic is over (hopefully soon), enjoy having pints in the pubs, socialise, rent a car, and plan some cool road trips!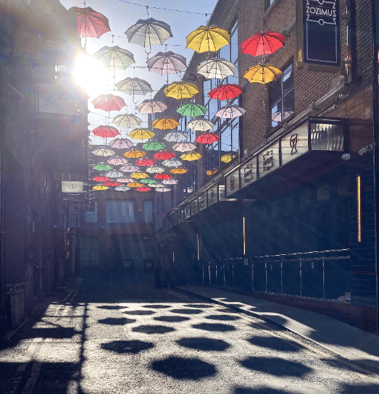 Anne's Lane, Dublin
PS: One of my favourite spots in Dublin (apart from Trinity) is Anne's Lane and my favourite food spot is Xian Street Food! 😊