The Global Graduate Sport Scholarship is a Trinity College Dublin Sport Scholarship, supported by Trinity Business School. This scholarship is for international student athletes who are completing a postgraduate course at Trinity. One of the 2021/22 recipients is basketball player Phoebe Sterba from Ohio, USA. Here she talks about her journey and offers advice to future applicants who wish to study at Trinity Business School.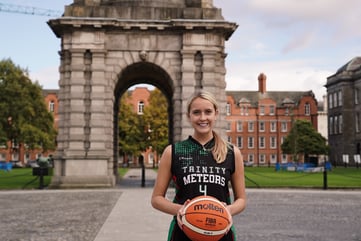 Phoebe Sterba
My Background
Hi everyone! My name is Phoebe Sterba and I am from Cleveland, Ohio. Before coming to Trinity, I studied at the University of Pennsylvania, where I received my bachelor's degree in Health and Societies with a concentration in Health Care Markets and Finance. The summer before my senior year of university I worked in Barcelona as a Consultant Fellow for a small start-up company under the guidance of a BCG consultant. My experience in Barcelona helped me gain valuable insight into the field of consulting and really helped formulate my passion for the career. I actually had accepted a position as a Management Consultant at a firm in Chicago, Illinois before officially accepting the Global Graduate Sport Scholarship from Trinity.
Choosing Trinity
I did not want to pursue a master's degree at just any university, I wanted to be a part of a programme that valued excellence and was invested in the development of world class graduates. I became very impressed with Trinity Business School while browsing through the alumni experiences, talking with business school staff and the athletic department, because it was evident that they offered all that I was looking for and more. I found my niche in the MSc in Management because I knew I wanted to enhance my business acumen and gain a more holistic understanding of management. I am so happy with the decision I made and extremely appreciative for this opportunity.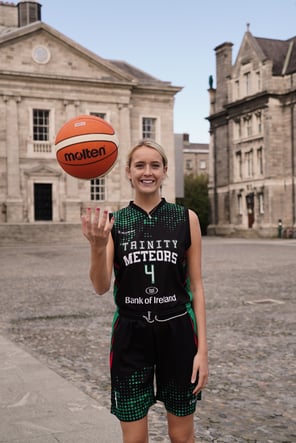 Shooting some hoops on campus at Trinity College Dublin
A New Postgraduate Experience
Due to the pandemic, the majority of my courses are online with the exception of two block weeks of in-person learning. This term consists of six modules, two of which are block weeks being held over just one week's time, making it a very intensive, high learning atmosphere The program has made every effort, in midst of all the restrictions, to incorporate a comprehensive learning environment. I typically have around one or two classes a day via Zoom or Microsoft Teams, followed by group project meetings and individual preparation for the courses. Despite spending a good amount of time on Zoom, I still have been able to meet my classmates outside of lecture and have been very lucky to meet some awesome friends. It is crazy to think how much I miss in-person classes and being able to see people every day in a lecture, but Trinity Business School and the MSc in Management programme has turned an extremely tough situation into a valuable experience.
The Global Graduate Sport Scholarship
For as long as I can remember, basketball has always been and will continue to be a huge part of my life. I come from a very big basketball family, with my parents and both my siblings playing the sport – so you can say it is in my DNA. Balancing basketball and my studies forced me to use my time-management skills. My four years at Penn truly prepped me for navigating both the rigorous academic schedule for the master's course as well as playing basketball at a high level.
Although basketball has been postponed due to the restrictions, I always allocate a specific time of my day to get out and stay in shape for the season. We are all hopeful that games will commence in January and I cannot wait to get back onto the court with the Trinity Meteors. They are truly such a welcoming and kind group of people and they have helped with my transition every step of the way. And, after Covid-19 abruptly ended my collegiate season this past year, I am very anxious to get back to playing and enjoying the time with my new friends and teammates. I am very grateful to the Business School for offering me this opportunity to continue my athletic career as a Global Graduate Sport Scholar.
Trinity collaborated with Meteors Basketball club to drive sporting excellence and provide a national league platform for Trinity students to perform at the highest level
Advice for Future Applicants
Choosing to spend a year abroad, during a global pandemic, in a city I had never visited, studying under a new education system, playing basketball with a new team, and without knowing anyone, was a difficult decision to make. While it was daunting, it was also something that I knew I could not turn down. The opportunity to study at a prestigious business school such as Trinity's was a once in a lifetime opportunity.
The process was relatively easy, especially with all the help and support I received from the Trinity business school staff. Personally, instead of combing through loads of information on the Internet, I found it extremely helpful to reach out to people and actually interact with the directors of the programmes of my interest.
I spoke with multiple employees of Trinity Business School about details of specific programs, life on campus, and living in Dublin. They were all generous with their time and answered my long list of questions, really putting my mind at ease about my decision. The most important thing I learned during my application process is never hesitate to reach out to someone and connect with people. Talking with people, whether it's over Zoom or in person, helps to put things into a much clearer perspective.
The MSc in Management Programme
Looking to the Future
From what I learned over the past year, as easy as it may seem, it is extremely difficult to picture where you see yourself in the near future. Last year, I pictured myself at a consulting firm and living in Chicago, Illinois – no questions asked. Now, I am studying at a world-renowned institution in a place I had never travelled to before. So much can change in an instant and I am very excited to see where this year will lead me. My time at Trinity has only just started and I have already learned so much in these past two months. I do know that where ever I go, the lessons I have learned from basketball – leadership, teamwork, persistence, hard work, dedication – will always be a foundation to fall back on throughout my journey.
For further details on Trinity's Sport Scholarships, contact performancesport@tcd.ie.