A little about me!
Hello all! I'm Irina, a current Trinity College Dublin student in Msc. Marketing. I'm originally from Romania but I've grown up most of my life in Luxembourg and hopped from country to country whilst studying to finally arrive in Ireland. I have an International Bachelor's in Communication and Media and recently co-founded an education startup for university students with a couple of friends whilst doing my Master's.
I'm the current Chief Marketing Officer for UniMate which means that I oversee the production and coordination of all of our marketing and communication efforts! I've had experience being the Digital Brand Manager for an ethical coffee startup whilst finishing my undergraduate which is what gave me a taste of Marketing before deciding on choosing it for my postgraduate degree.
In my free time, I enjoy reading non-fiction, attempting to bake and learning about sustainability.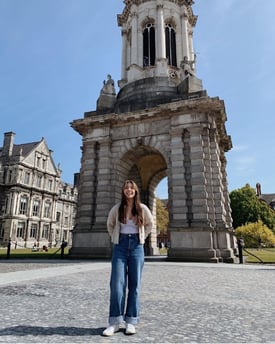 Checking out the Campanile at Trinity College Dublin
Starting UniMate
UniMate is an educational tech startup for university students. We're a free, award winning calculator app that helps students track their university grades, calculate their weighted average and predict what they need to strive for in order to achieve their dream degree classification by simply inputting their grades into our app. Our all-female team is Charlotte, the CEO, Becca, the CTO, and I, the CMO.
The business began when Charlotte, my roommate in undergrad, was attempting to figure out what marks she'd be graduating with in our final year. She found no good alternatives to clunky excel spreadsheets for Irish and UK students which is why she came up with the idea of UniMate. Becca and I then came onto the team to make the concept come to life within just a couple of months. UniMate was born because grading systems vary across universities and can often be confusing and tedious to keep track of. Our app helps solve this issue for students, from Undergraduate to Postgraduate degrees. With its straightforward and smooth interface, UniMate is a one-stop-shop for accessing your previous grades, inputting new ones, being reminded when your upcoming assignments are due and generally having a clear idea of where you stand during your degree. We've just recently hit 9,000 users! Check out our launch video here.
My Msc. in Marketing at Trinity Business School has helped me come to grips with marketing as I navigated co-founding a startup. The Entrepreneurship module in the first semester helped solidify my knowledge of startups and taught me the blueprint to being an entrepreneur - turns out there is a calculated path to helping entrepreneurs succeed and anybody can follow the steps! The Advertising Management and Digital Marketing Communication modules taught me how to come up with campaign concepts, execute them, and optimise them for search engines. However, most importantly what the course brought to me was an incredible group of individuals, my classmates, which I worked closely alongside the entire year. Their drive, creativity and experiences all helped me along the way when coming up with new PR strategies, creative content ideas and remaining motivated throughout the year.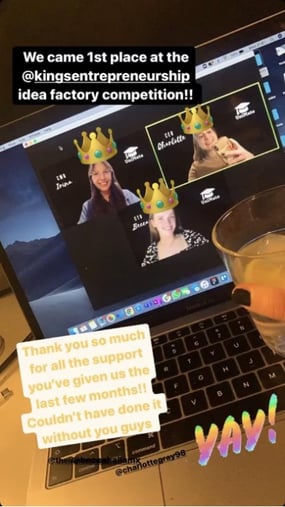 Virtually competing and winning 1st place at King's Idea Factory Competition with UniMate.
UniMate was a crash course in Marketing whilst I was still learning which meant that I was able to bring a lot of the skills I've learnt into the classroom. Having pitched for multiple accelerators (we even won first place in one!), I was able to become extremely efficient and confident in pitching, public speaking (well speaking over Zoom, but it still did get my heart racing) and slide deck creation which helped immensely in my group projects in the Master's.
I also became proficient in time management (you sort of have to if you want to balance your degree with your business) which helped a lot at university when scheduling in time to finish assignments, create UniMate content and also finding time to relax. UniMate and the Master's both blended into one another for me. Whatever I'd learn whilst marketing for UniMate, I'd write about in my assignments, and whatever I'd learn in class, I'd try out at UniMate.
MSc. In Marketing
I chose the Trinity Business School MSc. in Marketing programme as it was one of the best in Europe! It was also my choice because it had all of the modules I was interested in taking whereas at other universities I had to choose between fewer modules which meant I would have been potentially missing out on some important marketing knowledge.
The Masters has been challenging, but in a good way. It's definitely pushed me to new limits that I did not know I could reach. I feel extremely confident now going into the workplace and being able to say that I can work on multiple assignments/projects at once without feeling overwhelmed, know how to work in teams with individuals from all over the world to create incredible marketing strategies, and that I'm confident that I have a holistic understanding of marketing.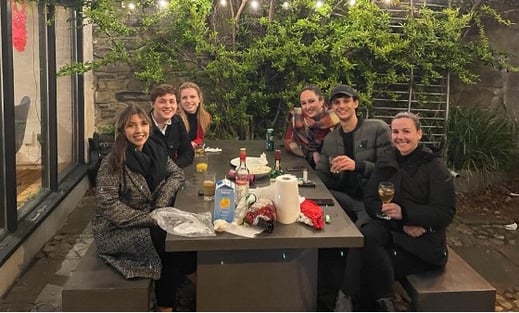 With my coursemates!
My highlights of the programme were definitely winning the best campaign for Toyota in the Advertising Management module, learning about new technologies in the Innovation and Digital Technology module, and working with a team of incredible girls, who are now my friends, to create a cycling campaign for Healthy Trinity! The best thing about the course is that it's incredibly hands-on and it really is exciting to see your campaigns and ideas come to life.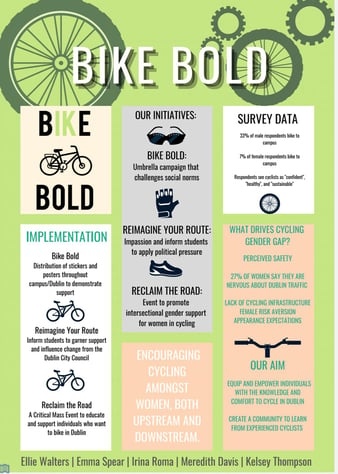 Our cycling campaign poster for Healthy Trinity
The course has definitely taught me how to navigate Marketing in a team setting. You learn how to listen to others, avoid conflict and create exciting campaigns. It has also taught me what my strengths and weaknesses are because you get a taste of all the different aspects of marketing. That's where teamwork comes into play even more, because you get to understand where you can best help your team out and where others can take charge more.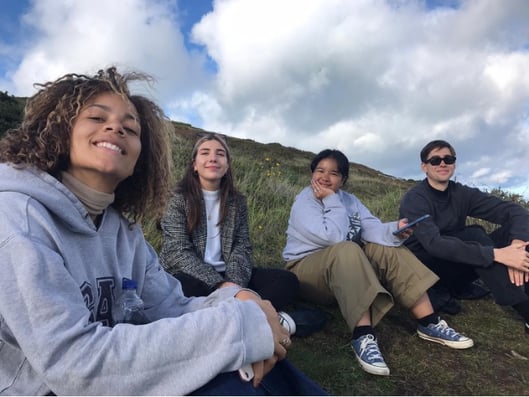 The cliff walk in Howth.
Advice
My advice for anyone thinking of doing the Msc. in Marketing is to know that you love marketing. It doesn't matter if you don't love all the aspects of marketing, because you'll have a chance to try out Sales, to Data Analytics, to Advertising - but just know that you do have a passion for the subject. The course is incredibly rewarding and what kept me going is my love for marketing, each module really teaches you a new aspect of it. However, it can get tough with all the deadlines if you're not passionate about it. Just keep in mind that the experience will teach you heaps. The Masters, especially since it's only one year, is fast-paced so you learn to time manage, tap into both your analytical and creative sides, and have proper hands-on experience all within the first couple of months.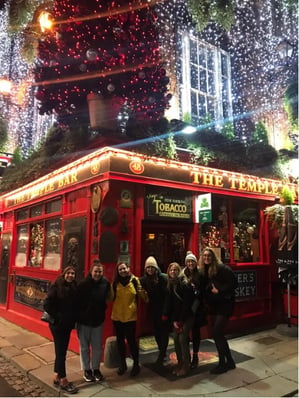 Doing whatever outdoor tourist attractions we could do in a pandemic!
My advice for those thinking of starting their own business is to just do it! I've never been one to mull over decisions a lot anyways, but starting your own business really is a crash course into whatever role you're doing within the company. It's incredible how much you learn and the confidence it gives you. Most importantly also is to avoid being discouraged and giving up. Co-founding a startup has definitely taught me to have thicker skin and take it day by day when it gets tough, which it will in any startup. There will be ups, there will also most certainly be downs: your strategies won't work, your campaigns will flop and you'll begin to question everything you've ever tried but knowing that you've helped at least 10 customers and that you did not give up will be very rewarding!
You can download UniMate for free on iOS and Android and check out our website and socials here. Find me on LinkedIn here also.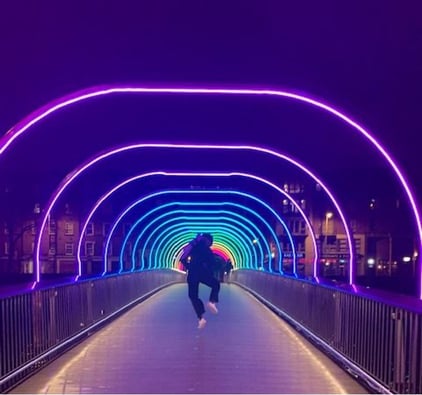 My favourite picture I took of my friend in Dublin on the first night of lockdown finished in December -the excitement was real.