Trinity Business School is located right beside the Silicon Docks, the nickname for the area in Dublin city centre that is home to a concentration of European headquarters for high-tech companies such as Facebook, HubSpot, Google, Twitter, LinkedIn, Indeed, and more.
Over 40,000 workers are employed in the environs of the Silicon Docks area. One of these highly-skilled people is MSc Digital Marketing Alumna Sarah El Alj, who is an Account Manager at Facebook's EMEA HQ in Dublin city centre, which is only a ten minute walk from Trinity Business School's front doors.
Sarah talks about why she chose the MSc in Digital Marketing Strategy, how it impacted her career, and working at Facebook. She also offers some tips and advice for prospective students who are looking to follow a similar career path into the tech sector.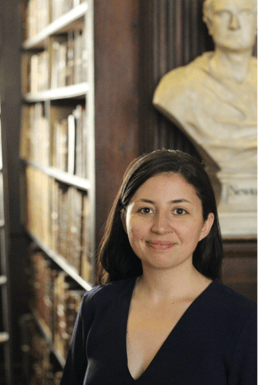 Sarah El Alj
My Background
Hi there, my name is Sarah El Alj, and I'm a Moroccan professional living in Dublin. I am an account manager at Facebook operating for the MENA (Middle-East & North Africa) region. My background is in branding, advertising and digital marketing. Before I came to Dublin, I had completed a bachelors in Business Administration and had undertaken different internships in Morocco the Netherlands, the UK, as well as the United States.
Prior to pursuing the MSc in Trinity College Dublin, I had graduated from the University of West London where I earned an MA in Advertising, Branding, and Communication. I don't have many fun facts, but one I could share is that my old side hustle as a French private tutor in London has not only enabled me to discover well-hidden coffee shops, but it has lead me to meet interesting people such as renown photographers, film and TV editors, actors, and even judges.
Choosing Trinity and the MSc in Digital Marketing Strategy
There were a number of reasons why I chose Trinity College. Firstly, my mum encouraged me to pursue another master's as she thought it would open more doors for me, and specifically recommended Ireland. I did my research of the top 200 schools in the world and Trinity was one of them.
What convinced me to choose the MSc in Digital Marketing Strategy is the outstanding prospects that many alumni have achieved as well as the master's ranking in the world.
The MSc in Digital Marketing Strategy Programme Overview
Before I accepted the offer to join the MSc, I contacted many alumni in order to understand their paths to success. Patrick Phillips, the postgraduate career development officer at Trinity Business School, put me in contact with these alumni, which made my choice quite easy to make. Most alumni shared that they have acquired strong consultative skills and well-rounded knowledge about digital marketing which has enabled them to secure the perfect job.
My Career since Graduating
The MSc in Digital Marketing Strategy definitely helped me get to where I am now, because in the programme you get a full overview of all the different social media and advertising platforms. The onus is thus on you to explore each of these. The master's gives you a good grounding in the discipline of digital marketing strategy and is a great opening door to further learnings and specialisations. An example of this is the SOSTAC marketing model which enables better decision-making strategy, implementation, and results.
The master's also helped me to physically meet with alumni working in the tech industry and who gave me advice on how to thrive in such a career and reach my goals. Something that really helped me network for the job was when I participated in the 100 minds initiative, where I raised over €1000 for Temple Street Children's Hospital and was awarded "most enthusiastic fundraiser". My mentor for this fundraiser worked in tech and nwas also a TCD Marketing graduate who mentored and advised me greatly during the whole process.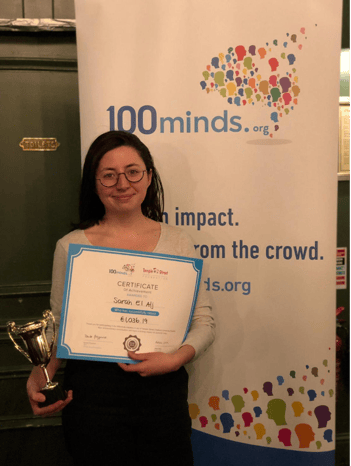 The 100 Minds Initiative
Applying my Master at Facebook
One module which was rewarding was "Digital Marketing Strategy", led by Professor Laurent Muzellec. The course has explored the many ways tech businesses best collaborate, engage, and ultimately compete in a digitally driven economy. Because my day-to-day job is to consult for businesses in the MENA region, I had to understand the business models of my clients and help them achieve their KPIs, so this module really helped me in this regard.
Two other modules which were effective and resourceful were the "Social Media Marketing" and "Digital Marketing Communication" modules led by Sarah Kennedy and Keith Feighery. They have excessively helped me understand key media buying and planning techniques which made me grasp a well-rounded understanding of possible integrations and implementations as a digital marketer.
The "Ethical Business for Digital Marketing" module was also resourceful as it gave me a good grasp of the many ethical issues key tech businesses are facing on a daily basis and how ethics and philosophy can aid into building a more ethical, yet profitable business model.
Award winners!
There is no day like the other at Facebook, every day comes with new challenges and learnings since we are always only "1% finished". Overall, my main mission is to consult businesses on the best strategies to achieve business success by using Facebook Products (Oculus, WhatsApp, Instagram, Facebook, Messenger) while ensuring that our solutions bring the best return on investment.
I am passionate about Facebook's mission to enable connection with others and build community, and that was even more crucial and amplified during COVID-19. The fantastic thing about Facebook teams is the level of commitment and collaboration everyone has, wherever time zone you are in. The office environment (which I miss dearly) is a fun and creative space where you get to engage with colleagues and learn on the go. This job has also enabled me to also bring impact on projects related to creativity and sustainability, and that was important to me.
One part of the MSc in Digital Marketing Strategy that has helped me stand out in my team is my knowledge of Irish life, government system, and economy. Thanks to taking part in the TCD X Irish Government led competition "Enabling Digital Ireland", I was able to not only learn about the Irish voting system, but I was also given the opportunity to research, ideate, and innovate new ways of voting in a digital dimension. This helped me share valuable insights with my team to better understand Ireland and its ecosystem.
Advice
-Firstly, I recommend to build credentials in order to showcase your abilities and skills. All major tech businesses offer many certifications which you can find online. You'll need these as they are a big plus on your C.V.
-I would also recommend to network, network, and network! Don't just ask people to refer you, as this could come opportunistic and a bit rude. Instead, build a connection and ask people for a coffee/zoom call, ask them questions, and build a learning relationship with them.
-Study hard, but not too hard! Look beyond your masters, since the journey to secure a job starts from your first day at Trinity. Don't wait until you finish your thesis to look for a job, but instead, juggle between your career building and studies. Also, many of the graduate programmes applications close in October, so keep an eye out for those as well.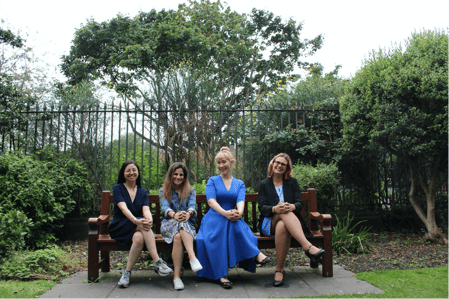 Lifelong friends
-Find classmates who will become lifelong friends. I have great friends who I still meet with every month. It's important to have friends who stand for common goals and have equal motivation to success. With Anna-Sofia Mehes, Erin Engelson, Lena Klein, Shahinaz H'midouche, and Katarina White, we collectively learned how to engage and work as a team, which has proven to work at every project. In fact, this type of team work has lead us to win the "Enabling Digital Ireland" competition in 2019.
-Go to as many career fairs and talks as possible, you will then be able to pin point your key interests as well as understand which company you share values with. This is an advice I got from Lorraine Curham who said that the first step to success is to show up. She had recommended to not miss the Google Breakfast Briefings, which has proven to be very insightful at the time.
I'd also recommend that you interact with your career advisors. Patrick - who I mentioned earlier – did bring tremendous help in my 1st and 2nd interview rounds preparations.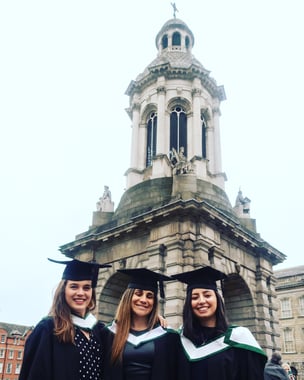 Graduation day!
- For students coming from abroad, I'd advise to look into the legal system in regards to visas. Postgraduate students do receive a 2 year working visa which allows them to work in Ireland after graduating. I'd still recommend that you look very closely at your prospects and your rights before coming to Ireland in order to manage expectations and prepare for any unforeseeable contingencies.
- Pack some hiking shoes and a fleece jacket! There are so many great hikes around Ireland, such as the Bray to Greystones walk, the Killiney Hill Walk and the Cliffs of Moher.
- Last but not least, engage with Irish businesses, build connections, and use your craft to continuously consult small businesses. I have had the absolute pleasure consulting for Timeless Bridal wear, Public Spaces (Street Furniture), and Edge Only (Ethical Jewellery), where I built professional Irish experience.