The Postgraduate Diploma in Accounting is ranked 1st in Ireland and 2nd in Western Europe for Accounting (Eduniversal, 2019). This full-time eight-month conversion course fast-tracks students towards becoming a qualified accountant and provides significant exemptions from the examinations of professional accountancy bodies. It is fully accredited by ACCA, Chartered Accountants Ireland and CIMA.
Alumna Petra Stracar, who now works as a Senior Associate at KPMG Ireland, talks about why she chose the Postgraduate Diploma in Accounting, how it impacted her career, working at KPMG Ireland, and she also offers some tips and advice for prospective students who are looking to follow a similar career path.
Intro
Hi! My name is Petra Stracar and I work at KPMG, one of the Big Four professional services organizations specialising in audit, tax, and advisory services. I recently attained my accountancy qualification with Chartered Accountants Ireland (ACA) after completing a graduate training contract with KPMG in the financial services audit department. I have since been given the opportunity to move into a management consulting role at the firm as the next step in my career. Prior to moving to Ireland, I lived in Hong Kong for ten years.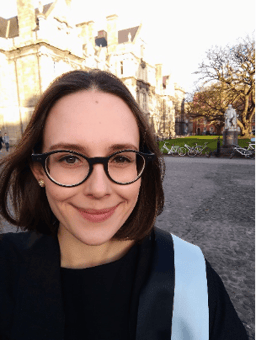 Petra Stracar
Choosing Trinity and the Postgraduate Diploma in Accounting
I chose to do the Postgraduate Diploma in Accounting for several reasons. Besides the stellar ranking of the programme, the reputation of Trinity Business School and resulting job opportunities, what attracted me to it the most were the exam exemptions that I gained. Most Big Four graduate programmes take three and a half years to complete during which you sit multiple levels of professional accountancy exams to ultimately become a chartered accountant.
With the exemptions that I gained during the Postgraduate Diploma I skipped a full set of exams and shortened my training contract length with KPMG. Overall, that meant an additional year in college where I could focus on my studies and one less year of exams while working a full-time job. It was really a no brainer for me!
Career Development with a Postgraduate Diploma in Accounting
The Postgraduate Diploma is highly regarded with employers across Ireland. I believe that doing the course gave me an advantage over other candidates with no prior accounting background and helped me secure multiple interviews. Employers in the industry are aware of the essential skills that are gained during the course and know that graduates are commitment to starting a career in the field. Certain companies even sponsor cash prizes and offer internships for the highest placing students in certain modules of the Diploma.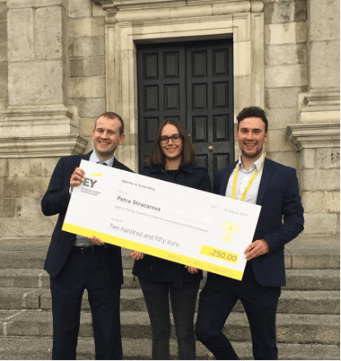 Prize Sponsored by EY!
The amazing resources at the careers centre at Trinity Business School were also a great help during the job application process. Employers and guest speakers are frequently invited to give career talks, which gave me some insight into their companies and helped me decide on the most suitable options for to me. I also received tailored advice from the careers team relating to job applications, writing my CV and improving my interview skills which helped me tremendously.
Applying the Postgraduate Diploma in Accounting Learnings in my work
I was able to apply my learnings from the Postgraduate Diploma throughout my audit role – whether it be using my financial reporting knowledge to solve client issues, applying my learnings from the auditing module in my day-to-day work or understanding the statutory and legal environment in which my clients operate.
What I particularly enjoy about KPMG is the variety of work. I work with a range of clients in the financial services line which focuses on aircraft lessors, banks, insurance companies and funds. A "typical" day in the office as an audit senior consists of completing and reviewing audit workpapers (mainly testing financial figures provided by the client), coaching juniors, assembling documentation for the audit file, as well as holding plenty of meetings/calls to ensure the audit is on track, address any arising client questions, and deal with ongoing audit issues.
The Postgraduate Diploma in Accounting Programme Overview
KPMG also offer amazing training opportunities and exam support, including lengthy periods of study leave. I really benefited from the multitude of in-house training courses and exam preparation classes. The long periods of paid study leave during the summers were also beneficial as it is rather difficult to consistently study late in the evenings after work and on weekends.
What I also really value at KPMG is the social aspect. A large chunk of employees are graduate trainees and I was able to make some good friends during my training contract. The workdays in audit can be long in busy season (January to April) so it's nice to have your friends around for support. All the social events are great fun as well - whether it be Christmas parties, team building events, nights out, or just casual drinks after work.
Advice
To get the most of your postgraduate experience, my advice is to be proactive to get the most out of your lectures and to get to know your classmates. They can be an incredible source of support during and after the Postgraduate Diploma, be it for advice on study, exams, work issues or job applications. I still regularly talk to my classmates from the Diploma and have a great network to reach out to for support.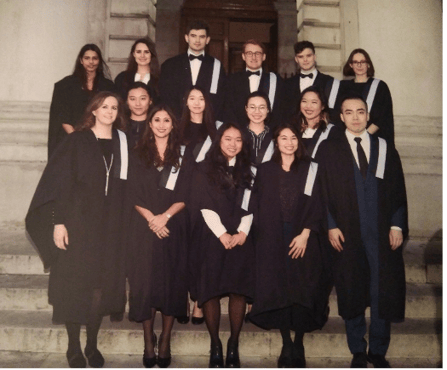 Postgraduate Diploma in Accounting Class - Graduation Day
In relation to the job hunt, show your interest and build rapport with recruiters. Also try talking to employees of the organizations you are interested in to get a feel for the company culture. I would also ask recruiters about company specific policies on study leave, travel requirements of the job, the structure of the organisation/department/team, as well as specifics on overtime paid (some companies have a cap). Finally make sure to leverage the available careers resources at TCD by sitting down with your career advisor one on one.
As cliché as it sounds, my advice on Big Four interviews is to just be yourself and to try build a connection with your interviewer. From my experience they will not expect too much technical knowledge. Rather, they will be interested in finding out whether you will fit into their team and if you know what the training contract entails. So just relax, let your personality shine and showcase the research you have done on the company and the role you are applying for.
If you are a foreign student that may want to work abroad in the future, ensure that the qualification you are interested in pursuing is recognised in your destination country. If you are planning on staying in Ireland, check with employers if they are willing to support your preferred exam route. Some employers will also reimburse part of the course cost so make sure to ask if they are willing to do so.
My final piece of advice is to take time out to enjoy yourself during the programme and indulge your interests, whatever they may be! I particularly enjoyed (and now miss) spending time on Trinity campus in between lectures, exploring various places in Ireland and travelling across Europe during my time off.