The MSc in International Management was ranked the highest entrant at 38th in the World, 27th in Europe and in the top 4 of the UK and Ireland combined in the 2020 Financial Times Masters in Management Rankings. The programme is designed for business graduates to develop cutting-edge global business knowledge.
One of these graduates is MSc in International Management Alumnus Pulkit Gupta, who is now a PMO Consultant at Sogeti. Sogeti is part of the global Capgemini Group, which has over 270,000 employees operating in more than 100 locations worldwide. Pulkit talks about why he chose the MSc in International Management, how it impacted his career, working at Sogeti, and he also offers some tips and advice for prospective students who are looking to follow a similar career path by studying the MSc in International Management.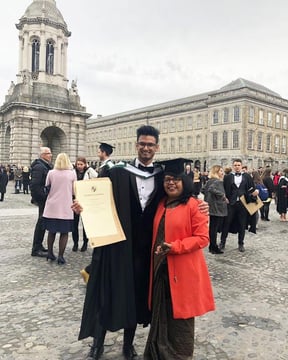 Pulkit Gupta
My Background
In 2017 I had just finished my undergraduate degree in Economics & Business from the University of Delhi and was ready to begin my Irish journey at Trinity College Dublin with a lot of aspirations and goals. In pursuing a masters degree straight after my undergraduate studies, I was open to gaining experience across all industries and wasn't focused on any particular role.
In the final semester of the programme, I received an opportunity to interview for a Graduate Business Consultant role at Sogeti Ireland which is part of the global Capgemini Group. Coming from India where Capgemini employs 100,000 people, it was like a dream come true.
Sogeti works with clients to help them take full advantage of technology and deliver solutions that enable digital transformation by offering cutting-edge expertise in Cloud, Cybersecurity, Development, Quality Assurance and Data & Analytics. We are passionate about technology and 'creating value' via technology for our clients.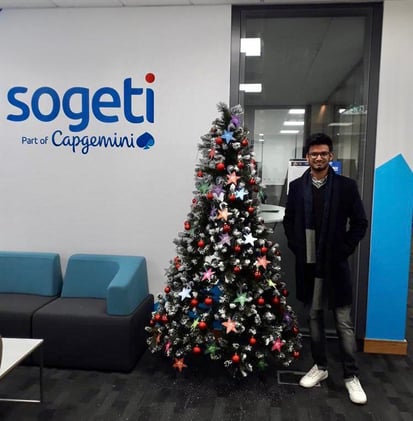 In festive mood at Sogeti HQ
In the two and a half years that I have worked with Sogeti, I have worked with a diverse group of clients and industry leading brands by supporting them with business and technology transformation. For example, in one project I supported a client in implementing a new Content Management System so that they could provide a better and more personalised customer experience.
Today, I continue to work as a PMO Consultant with Sogeti Ireland and have developed my skill set in Agile Project Management.
Choosing Trinity and the Masters in International Management
With Ireland being the fastest growing economy within Europe in 2017, Trinity College Dublin was my first choice to pursue an MSc programme as its ranking for various factors on an international level speak for themselves.
Since I wanted to study a wide range of fields involved in business, the MSc in International Management seemed to be the suitable choice. The programme offered a blend of modules such as Business Strategy, Finance, Marketing & Branding, Project Management, Cross Cultural Management etc. which really broadened my horizons. Being a part of the multinational group of students and being guided by a highly accomplished faculty was also a major attraction for me.
The MSc in International Management Programme Overview
With the beautiful, sprawling Trinity campus located right in the heart of the city centre, I knew I would have access to real life business cases delivered by guest speakers from companies like Amazon, Google, Facebook, Airbnb etc. The International Residency week in China was the cherry on top as it allowed me to apply and live the modules on an international level.
Career Development with a Masters in International Management
My favourite module in the programme was International Business Strategy delivered by Dr Paul Ryan. The key takeaway from the module was how a business strategy can be a success in one country and a big failure in the other. It made me understand the concept of the main strategy backed by minor strategies that seem to be invisible from a bird's eye view.
The lesson helped me develop an 'attention to detail' mindset and resulted in positive outcomes every time I applied it to achieve mini deliverables. An example would be applying effective communication between teams spread across 3 countries, or delivering a demo on a strict deadline in order to achieve the final goal.
International Residency Week in Shanghai, China
A post-graduation degree is always preferable in terms of personal growth. The MSc in International Management isn't just a post-graduation degree, it is an institution and has proved to be more than an added value on my C.V. The decision to pursue the MSc International Management has proved to be one of the best decisions of my life. The programme felt like a roller coaster ride which taught me the skill to achieve a balance and get the best from myself in everything I do.
Applying the MSc Learnings in my work
I have been able to apply the key learnings from the programme at Sogeti on various projects. The theoretical understanding of different aspects of business always aids me to understand the client's business model and perspective.
Every day can be a new challenge in the consulting role. Hence, the programme helped me develop a solution focused mindset which made me align to Sogeti's client centric way of doing things. I use it while interacting with the clients and teams, analysing their core problems, and finding a way out.
A consultant's usual day is spread across doing a plethora of tasks. I start my day with daily stand up calls with the Programme Manager. Based on the updates I monitor and track the team's performance and ensure we stick to the project delivery plan. Along with that I am also responsible for Risk & Finance Management of the project.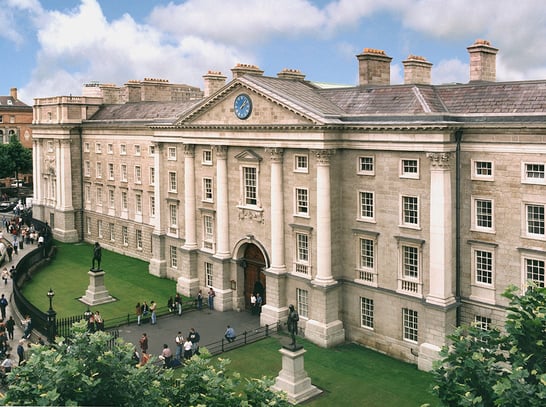 Trinity College Dublin
At Sogeti people come first. The foundation of the organisation is based on 7 core values of honesty, boldness, trust, fun, modesty, and team spirit. Working for Sogeti means learning never ends. Working with people who are continuously developing new skills and techniques offered me the best possible situation to keep on enhancing myself. A client project sometimes requires you to tailor the approach to make it a better fit and sometimes it allows you to be the architect of a new approach. This whole process makes the job way more interesting at Sogeti Ireland and always makes me feel refreshed.
The group projects at Trinity prepared me to function in a multicultural team and step outside my comfort zone which led me to an early success in my career. I was placed in a challenging project where I performed in 4 different roles, managing a team of 14 resources and eventually supported the final delivery. Along with analytical skills it taught me numerous soft skills and how to use them both for individual and team benefits.
Advice
For anyone who wishes to work in Management Consulting, it is worthwhile to know that sometimes it is necessary to be flexible and function outside your specialised skillset. Hence, people look to get into the MSc International Management programme as it focuses on various modules and prepares one to apply theoretical knowledge across many different situations. To be successful at consulting it is important to be solution focused and ready to perform any role that might come up.
There's no perfect time to enter a job market. Hence, all prospective MSc International Management students should consider closely monitoring the market from their first day in Ireland. Since Dublin is the Silicon Valley of Europe, most of the companies have IT as their main business. Knowledge in a diverse range of modules helps students to tap roles across various fields such as Finance, Marketing, Sales, Project Management, Business Analysis etc. However, one should take into account their educational & professional background, interests etc. before applying in the market. As mentioned above, mini-strategies can be applied here as well while looking for a job. One way of doing that is to have multiple versions of your resume tailored for different roles.
How can you make the most of the postgraduate programme? The best approach I suggest is to break down weeks and achieve every week. Gaining exposure to most of the elements should be the key goal. You can schedule a session with the dedicated postgraduate career team, attend a career fair, enhance your awareness about Ireland from a management student's eye by attending a guest talk around the campus and the city. Good networking skills and seeking a desired role go hand in hand. Sometimes students get so caught up focusing on getting good grades and a job that they forget to socialise with peers and grow their network. A short relaxing break can always be used to explore the Irish culture and other countries around Europe. In the end, an MSc in International Management student should develop an overall personality and should be ready to take on the world!!