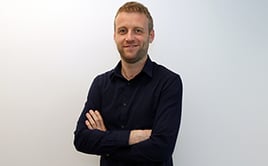 MBA Career Development Officer Mark Heeney discusses the resources available to MBA students at Trinity and how they can help further their career aspirations.
"Trinity MBA's have a range of various needs for career support before, during and after their time at Trinity College Dublin, whether it is looking to accelerate their current career path or transition into a new industry.
At Trinity Business School, our dedicated MBA Careers Team offers a wealth of resources, including workshops, individual and team coaching, networking events, and career tools to help you achieve these goals.
The Career Advisor's Role
During the MBA programme, I sit down with students for at least one mandatory session as their career coach per year. Along with this, the team and I are always available to meet students for in-house career advice. We have meeting rooms to meet students on a one-to-one basis, which is an excellent environment to discuss and work through their career journey.
As a MBA career development advisor, I am able to provide advice on specific industry sectors and thus bridge the gap between our MBAs and employers. Throughout your time at Trinity, I will be there to inform and educate you on career opportunities open to you, along with the latest industry and recruitment trends.
Reaching Out
As a member of the Trinity MBA alumni, you will have lifelong access to this service where you will have opportunities for professional development, lifelong learning and many opportunities to connect with fellow alumni. When opportunities for employment do become available, the team and I conduct mock interviews with you and give advice on salary negotiations.
Reflection & Personal Goals
During your time at Trinity Business School we encourage you to take a step back and reflect on your strengths, limitations, and what are you really looking to achieve? We are there to facilitate and help you achieve your goals, so it is essential that you understand what these are from the outset.
I am excited to welcome you to Trinity and meet one-to-one to discuss these goals with you further. Undertaking an MBA is a big decision, and also a very exciting one, and we want to make sure you maximise your career opportunities during your time at Trinity Business School.