There are three optional week-long international residency electives in South Africa, Brazil and Belgium as part of The Trinity MBA programme. The one-week elective module in Management in Emerging Economies in Brazil prepares MBA students to develop new market entry strategies that minimizes entry risks.
This is achieved through a mixture of case studies, class lectures, and company visits, which take place in both Rio de Janeiro and São Paulo.
MBA Full-Time Alumna Emily Willard from Seattle, USA talks about her time exploring what is the largest economy in Latin America.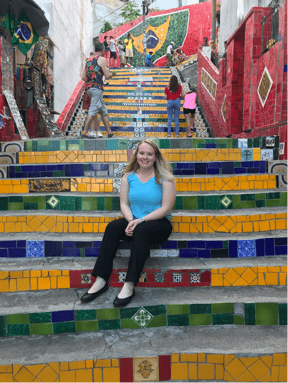 Sitting on The Selaron Steps in Rio
Introducing..
"I'm originally from Seattle, Washington and moved to Dublin during the summer of 2018 to complete my MBA at Trinity. During my undergraduate course, it was very difficult to study abroad, so I decided I would wait and do my graduate degree internationally.
One of the main reasons I chose The Trinity MBA was because of the international residency week electives. I wanted as much exposure to international businesses while also travelling as much as possible during my MBA.
I currently work as a Device Technical Regulatory Specialist at Mylan in Dublin. A significant part of my job is working with different teams around the world to help bring new generic medications to market. The Trinity MBA emphasized the importance of teamwork and prepared me for working with diverse teams in my current role.
Dr. Evodio Kaltenecker lecturing Trinity MBA students about the MBA Elective Module 'Management in Emerging Economies in Brazil'.
Choosing Brazil
When selecting International Residency Weeks, I made sure to select places I thought I may not have another opportunity to travel to. I had done minimal traveling in South America, and knew Brazil was the largest economy on the continent. Additionally, the opportunity to visit numerous companies is unique to the Brazil residency week, so I knew it was the perfect opportunity.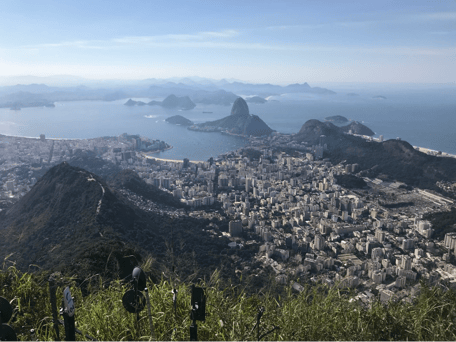 The view of Rio de Janeiro from the Christ the Redeemer Statue
The Elective Module 'Management in Emerging Economies in Brazil'
Dr. Kaltenecker's course is engaging and exciting.
The case studies provide lessons that will be relevant to most career paths. The course was set up so that in the morning we would discuss a case study and work with Dr. Kaltenecker to analyze the business and the industry. My classmates were always providing diverse opinions that contributed to interesting discussions around these businesses operating in an emerging economy.
These case studies prepared me for the consulting project and provided me with a toolbox for analyzing the companies we consulted for. Like most companies in the company project module, ours was a multinational operating in many countries, including ones with emerging economies. I was able to share my experience with my teammates so we were able to provide better insights to the company during our project.
In the afternoon we travelled to different companies. During these visits we were able to tour their location and meet with different employees. This gave us a more real-world experience that we would not have had by simply conducting an academic exercise. One of the most memorable visits was to Natura where we were able to tour the manufacturing area as they were producing cosmetics. The entire wall of the facility is made of glass so visitors can see in, which supports Natura's commitment to transparency and sustainable business practices.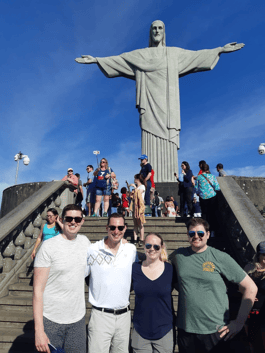 Christ the Redeemer Statue in Rio
Exploring The Cities
The course was much smaller than any other I took during the MBA so I was able to connect with new classmates that I hadn't had the opportunity to during regular coursework. We spent time outside of the course together enjoying the beach, dinners, and other cultural activities.
A friend and I stayed a few extra days in each city so we could explore. We watched a football match and went to a classical music concert at the Municipal Theater in São Paulo. In Rio we were able to spend time at Copacabana Beach, which is one of the most beautiful places I have been.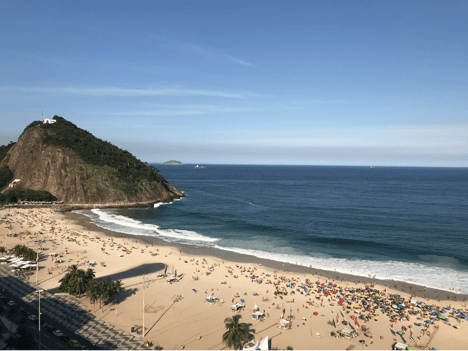 Copacabana Beach
The Company Visits
The international week in Brazil was unique in that we were able to visit a number of different companies that were either headquartered or had operations in Brazil. This allowed us to gain a new perspective on the many factors multi-national businesses must take into consideration including culture, sustainability, marketing strategies, and operations.
One of the most interesting companies we visited was Natura. Natura, who owns Aesop, The Body Shop, and Avon, is a personal care/cosmetics company that focuses on environmental sustainability. We toured the company's manufacturing site in São Paulo and visited with a few of their employees.
We also visited BR malls, which is one of the largest shopping mall operators in Brazil. We often hear how brick and mortar stores are going out of business because of the increased popularity of online shopping, but in Brazil people prefer going to the mall to do their shopping. This visit emphasized the importance of understanding the cultural differences businesses must consider when operating in a global market.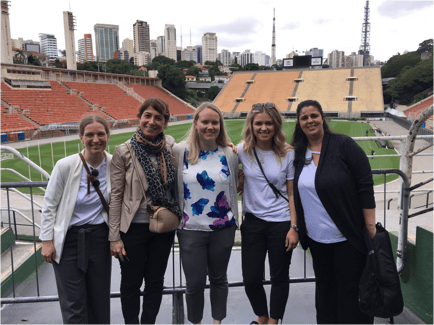 Visiting a football museum in Sao Paulo
A few other companies we visited included:
Gaia: a company that emphasized the importance of having a positive culture

COR – Rio de Janerio Operations Center: A data center that tracks factors like weather, safety, and traffic congestion to help keep the government and citizens aware

ENGIE: A utility company focusing on renewable energy
Final Thoughts
Take advantage of your time in Brazil – try new foods, visit cultural sites, ask questions during the company visits. And most importantly, make sure to sample a few caipirinhas and brigadeiros.