Ireland is one of the only European countries to provide a two year graduate work visa. The Irish Third Level Graduate scheme exists to allow legally resident non-EEA third level graduates to remain in Ireland for the purpose of seeking employment and applying for a work permit.
As a result, many students remain in Ireland after graduating and enter the job market. One such person was MBA alumnus Brandon Atwell from the USA who began working after graduation at EY in Dublin as a Management Consultant. Brandon speaks about the two year graduate work visa and offers tips and advice to students looking to avail of the visa programme.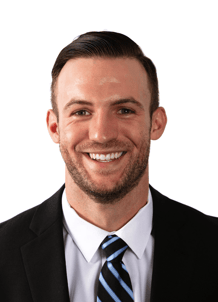 MBA Alumnus Brandon Atwell
Intro
I am from the United States, born and raised in Virginia. I attended Ohio and Radford University where I studied economics and data analytics. Prior to Trinity I was working for a retail company, Target, in California in an operations management role.
Upon graduating from the Full-Time Trinity programme in 2019, I began working for EY as a management consultant. EY are one of the world's largest professional service firms, providing a wide range of services dedicated to helping organisations solve their toughest challenges.
Choosing the Trinity MBA
I chose the Trinity MBA programme for a host of reasons but the reputation of the programme and the opportunities in Dublin were a major factor. Having a globally recognised reputation and being the top programme in Ireland opened up many opportunities for me. The Trinity MBA network is unlike any other I have seen, Dublin plays host to many of the most attractive employers for business graduates and you'll find a Trinity MBA alumnus placed in nearly all of them.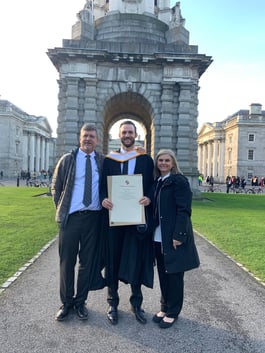 Graduation Day at the Campanile, Trinity College Dublin
The Two Year Graduate Visa
The two year graduate visa allows international students to live and work in Ireland full-time following completion of the MBA programme. I found obtaining the visa to be a very simple and straightforward process; however, Trinity have a number of resources in place to support students through this process.
When applying for jobs post-MBA, most prospective employers were aware of the graduate scheme and weren't concerned with the two year limitation. My advice to anyone looking to remain in Ireland longer than the two years provided by the visa would be to look at the list of jobs requiring critical skills as provided by the Irish government. These critical skills jobs provide a pathway for employers to provide sponsorship to remain working in Ireland after the student visa has expired.
Securing a Job with the Graduate Visa
Working as a management consultant for EY provides the opportunity to build a wide range of skills and expertise across various industries. I come from a retail background but have been able to leverage my operations experience to provide services to a client in the power and utilities sector in Ireland. The Trinity MBA programme was instrumental in helping me secure the role I am in now.
The various company projects helped me build the skills and credentials to successfully transition from industry into a consulting practice. Some of the challenges I face in my day-to-day role are very similar to those faced over the course of the Trinity MBA. Having the flexibility to juggle multiples projects and prioritising has been critical to my success and is something that Trinity helped prepare me for.
Advice
The best advice that I received and can pass on is to make the most of the Trinity network as quickly as possible. The people of Ireland truly are wonderful, valuing relationships and looking after people they know. Networking can be challenging provided the unprecedented times we are in, but reaching out to alumnus via LinkedIn for a phone call or virtual coffee will go a long way when it comes to searching for jobs or career advice.
For American students looking to study abroad in an English speaking country, I think Dublin provides a very unique opportunity. Ireland's location lends itself to easy travel to the United States and Europe.